About East Midlands Railway (EMR)
East Midlands Railway (EMR) is a UK train operating company, owned by the Abellio Group, and is the current operator of the East Midlands franchise.
The company operates two types of services: long distance services to and from London St. Pancras and regional services. Regional services connect cities and towns in the East Midlands, as well as Central and Northern England – linking the capital with large urban hubs such as Nottingham, Derby, Leeds, York, and Sheffield.
After being awarded the franchise in 2019, Abellio has been committed to driving East Midlands Railway, and the wider region, towards a brighter future; working in partnership with many stakeholders to connect cities, support communities and create easier journeys for everyone.
As part of their plans to 'simplify customer journeys', Abellio have also invested significantly in ticket buying facilities and technology to support smartcard use – helping to reduce paper waste and streamline the passenger travel experience.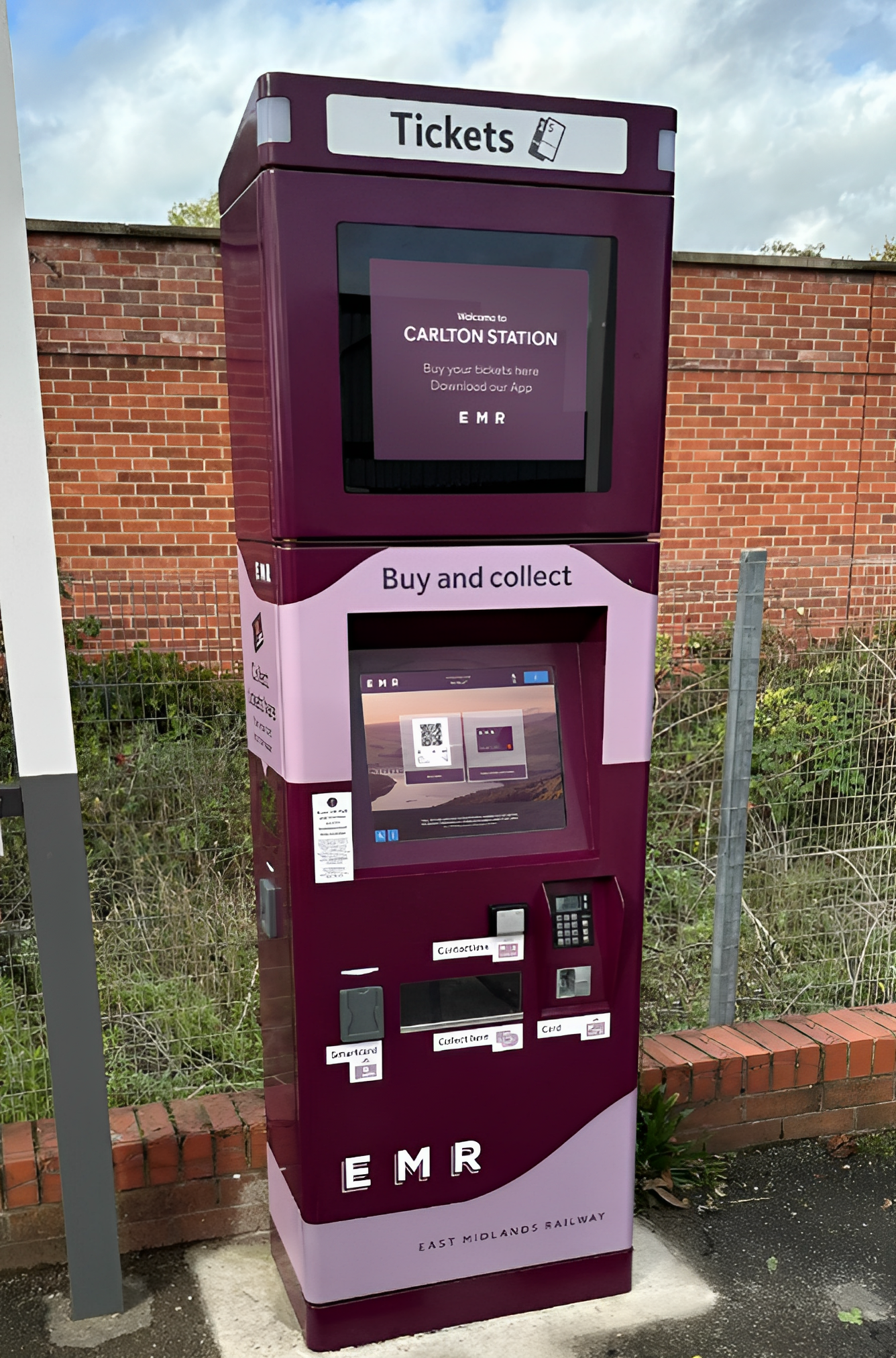 EMR & Cammax- A Truly Smart Rail Ticketing Kiosk
As market leaders in the design, development, and provision of payment systems, and with an impressive track record of the successful delivery of several large payment and smart ticketing projects, in 2019 Cammax, in partnership with SilverRail, began discussions with EMR about upgrading and replacing their existing TVM (Ticket Vending Machine) estate.
Ticket Vending Machines in rail have hardly progressed over the past 20 years and EMR's vision was to create a sophisticated new product that would transform the operator's existing TVM offering from being a basic pre-programmed ticketing machine into a dynamic shop window that the rail company can offer their full product range through, even down to last minute on-the-day advanced tickets.
Following months of extensive design and development work, and after overcoming several challenges, the Cammax Smart Rail TVM, a truly 'smart' rail ticketing kiosk, was created with the first machines deployed at Derby and Uttoxeter Stations in 2021.
In line with EMR's requirements, the new smart kiosks issue traditional walk-up fares to customers whilst offering a full range of national Railcard and local discounts. Advance purchase fares for those passengers who are not travelling immediately and are happy to travel with a little less flexibility are also available, whilst the TVM's smart ticketing functionality enables customers to purchase a ticket in advance and collect it from the machine.
Owing to the intuitive touch screen, and user-friendly design, the new TVMs facilitate access to cheaper tickets which resolves a long-standing problem. Historically, one of the biggest issues with EMR's old TVM estate was that it caused many passengers to select the wrong ticket, resulting in the walk-up market sometimes paying more than necessary.
Finally, several of the new Rail TVMs have been fitted with Real Time Passenger Information. This is a secondary screen module located on top of the main ticketing screen which can help passengers stay informed of the next train available and update passengers on any delays or cancellations. This is key information which may not be currently available at smaller stations. The aim is for the TVM's to be able to be used as a key point of information for customers when customer service staff are not available. This will enable TOC's to remove manned Ticket Offices in low footfall stations without reducing the level of service expected by passengers.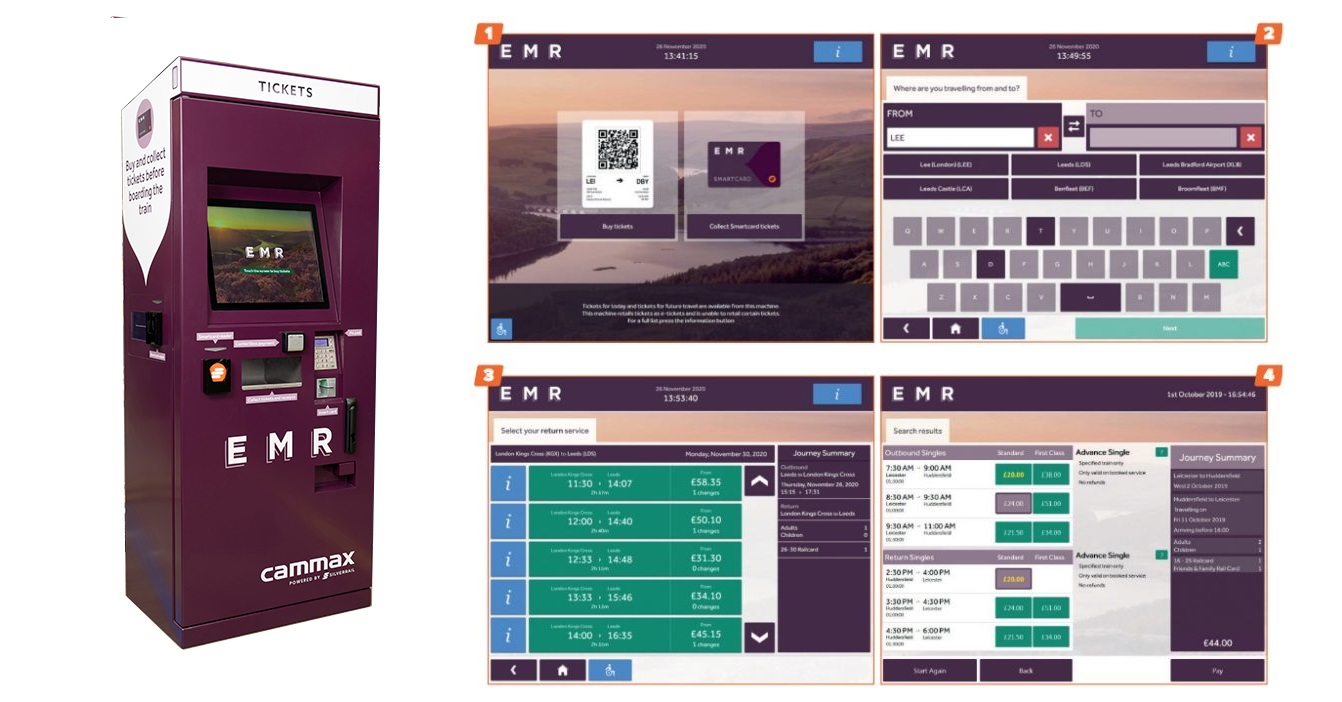 Rollout
After rigorous testing and refinements, in 2021 the first TVMs were installed at Derby and Uttoxoter stations. Since deployment rail passengers have lauded just how intuitive and easy to use the new machines are.
In 2022, a further 28 additional Smart Rail TVMs were installed across East Midlands Railway's regional network.
In a bid to further streamline the passenger travel experience, later in 2023 the Smart Rail TVMs will be upgraded to allow purchased tickets to be applied directly to a smartcard and some season ticket products.
Find Out More
To find out more about our innovative work with EMR, please refer to the case study here. For more details about the features and benefits of our Smart Rail TVM please head to our Rail TVM product page here.