Overview
Self-service systems are becoming more and more common in our everyday lives, whether it be buying a transport ticket, paying for parking or settling a Council invoice. Great self-service systems usually have a fantastic front end user experience, whilst delivering great management information to system owners. Another thing that these systems should have in common is a comprehensive back office suite that empowers system owners to control and manage their estate and where possible generate revenues from the services available in the back office.
Cammax recognise the importance of back office software systems and as such have developed a configurable product that caters for all of our core self service offerings, from transport TVMs (Ticket Vending Machines) right through to parking payment machines. Our back office is designed to provide complete system transparency and deliver real time, meaningful data that can be used to enhance the product offering and service as a whole.
Benefits
Provides owners with a highly visual overview of machine status for all units in the estate
Detailed and customisable report modules give management useful data to assist with strategic decisions
System alerts ensure that all members of staff receive the relevant system notifications
Product management tools provide owners with the ability to amend the pricing of their products across the estate, with quick and simple change controls
Transparency offered by the system audit trail allows you to pin point transactions and view details
Dashboard
The back office products that we provide to our clients are often used by a number of people occupying various roles within an organisation, from front line support staff to senior directors. As such, the back office is designed to provide all users with the detail they need as quickly as possible, whilst allowing further data mining and analysis where required.
Each back office is equipped with a dashboard landing page which provides a high level overview of selected system metrics.  This can be configured to display transaction values, system alerts, events or kiosk status. This page is designed to be the first port of call where users can obtain a visual representation of key metrics.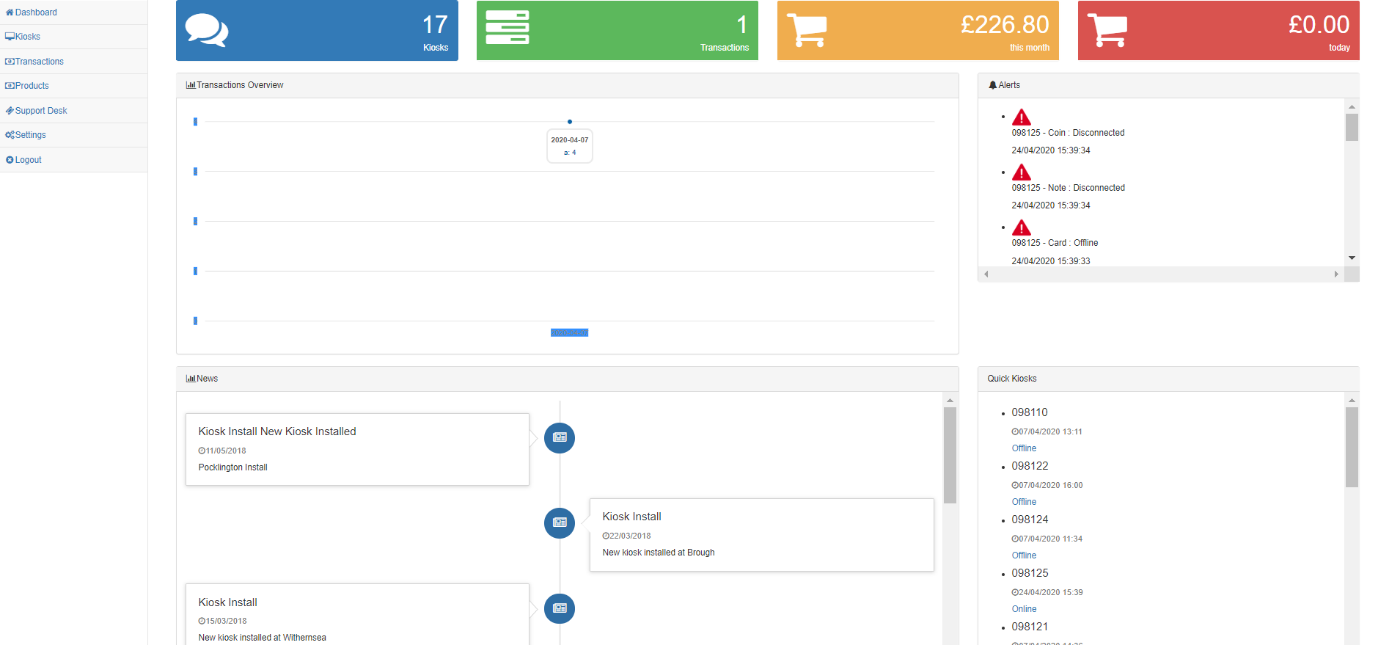 Dashboards are a great way of obtaining day to day system data quickly and easily, whilst monitoring any changes to the system should they arise.
Kiosk Management
One of the most popular areas of the back office is the kiosk management section which provides both a high level overview of machine status, consumable stock levels, connectivity and more, whilst also offering a more detailed overview by selecting individual machines.

Providing our clients with the ability to quickly see the status of their machines and individual components is key to running a successful self-service system.
Arranging kiosks into groups and sub groups and assigning group specific configurations allows clients to manage all aspects of their system from a remote location, whether it be updating product pricing, media schedules or ticketing templates.
Transactions
Like any payment channel, one of the main areas of focus in the back office is the collection of all transaction information and the ability to analyse that data. The back office provides system administrators and management with tools that facilitate in transaction reviews both from a bulk pattern perspective and on an individual basis.
Transaction overview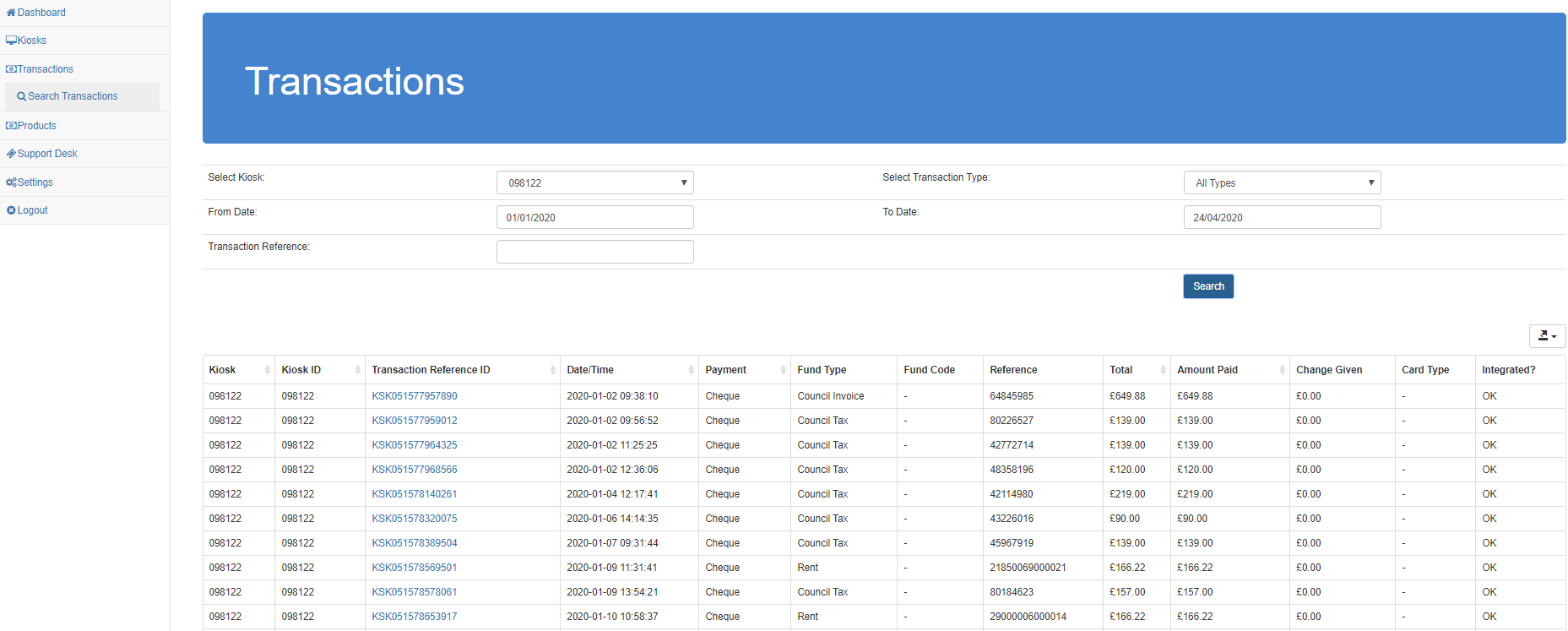 Reports
Every back office configuration is equipped with a report suite that gives you the ability to analyse the system in granular detail. The ability to review all system data and export it for further analysis is a critical part of running a successful self-service system and helps clients to continuously improve the service in response to data trends.
The Cammax report builder gives the power of reporting to our clients and allows administrators to build custom reports, schedule the run time frequency, dictate where these reports get sent and who receives them.
In addition to this, Cammax work very closely with our clients to ensure that all reporting requirements are captured during the planning phase and any formats that sit outside the standard templates can be added in ahead of go live. Similarly, if new reporting requirements emerge throughout the life of a system, we will work with you to understand the requirements and add these new features in.
Products
One of the most important sections of the back office is the products tab.  This is where you are provided with the tools to manage the products that your system is selling, whether that be transport tickets, parking sessions, Council services or other products. All aspects of the product can be configured remotely through the back office making the management of ticketing structures, pricing, tariff changes, service changes much easier and far quicker than ever before.
For systems that utilise multiple receipt designs for varying product ranges, these designs can also be managed here, amending images, text and layouts to make sure that all aspects of the system stay up to date with changing business policy.
Support Desk
Direct links from our back office products to our support desk give our clients the ability to raise support tickets directly from their back office as soon as they identify an issue or become aware of one. This speeds up the fault reporting process and allows our support team to begin working on resolving your support request at the earliest opportunity, keeping service interruptions to a minimum.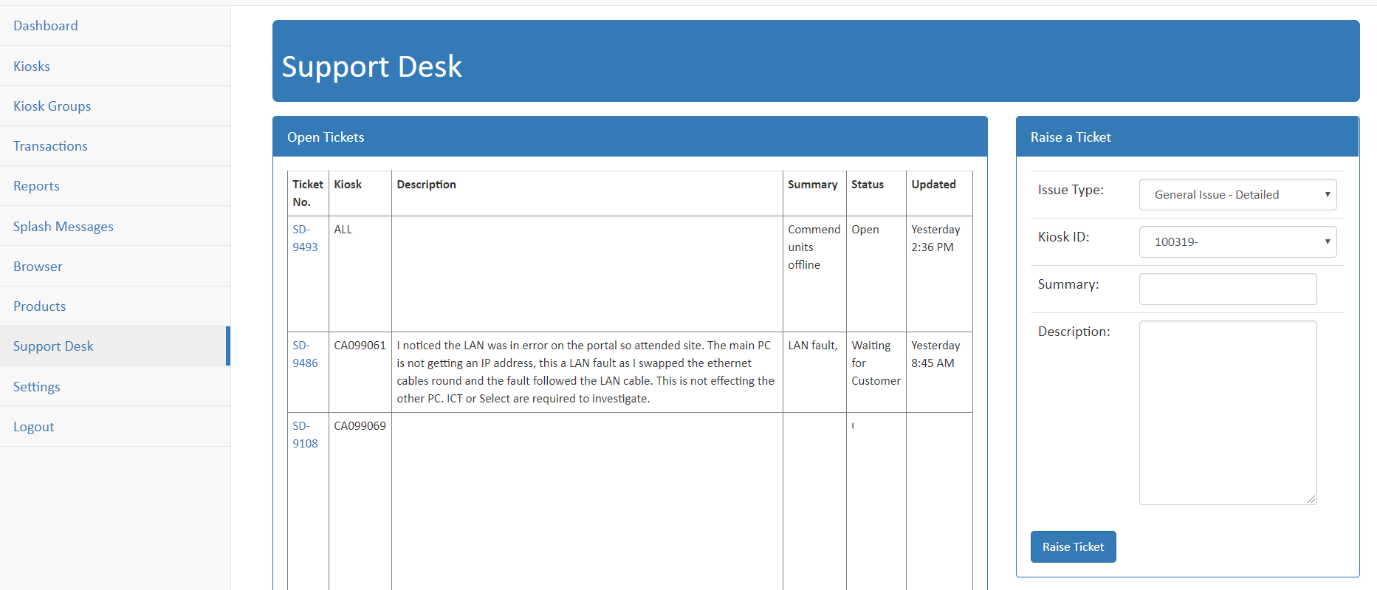 User management
It is important that businesses can manage their system users for back office products to make sure that each member of staff has access to the information they need. This is achieved by setting permissions against each system user, detailing what parts of the back office they can see and what parts of it they can interact with. These permission sets are controlled by the appointed system administrator, who will be trained by Cammax staff during implementation to ensure they are well qualified to manage the system thereafter.
Customisation
Cammax recognise that each organisation we work with has their own unique requirements and may have specific functionality that they want to see in their back office. As such, Cammax offer our clients customisation options that allow new modules, features, reports and data capture to be added to the core product. This enables system owners to deploy the exact system they need, whilst providing them with a back office platform that can be updated with new features throughout the duration of the deployment to meet changing business needs.