Remove Communication Barriers
The ability to translate any kiosk application into multiple different languages has enabled Cammax to provide various sectors with the ability to ensure that all clients receive the same user experience, which is so important with present day expectations of inclusion. Our translation kiosk solutions help to eliminate the frustration caused by language barriers for your staff, as well as your clients.
Fully Customisable
At Cammax we produce all software in house and solutions can be easily customised with multilingual options to suit your specific requirements. You can pick and choose the language options to suit your individual kiosk needs and the specific cultural demands of your target audience.
Cost Effective
Our multilingual translation solutions are extremely cost effective, allowing you to translate much more of your content on a fixed budget than would be possible by using human translators alone.
Translation Solution for Public Service Sectors
With the exponential growth in technology over the past ten years people have come to expect more from a kiosk system. So much so, we're now seeing kiosk technology play an integral role in public service sectors.
Cammax have worked with a number of public sector partners to develop and deploy cutting edge kiosk technology to assist staff who deal with visitors from all across the globe.
Cammax & The Metropolitan Police
In conjunction with the Metropolitan Police, Cammax developed and installed a specialist two-way translation engine for the London Olympics, which allowed non-English speaking members of the public to communicate with a staff member through the use of the touch screen kiosk and 50,000 plus pre-determined conversation routes.
The Challenge
In the run up to the London Olympics it was predicted that around 4.3 million people from all over the world would be visiting the capital; for many of those visitors English would not be their first language. This presented a huge communication challenge for the Metropolitan Police.
The problem with human translations is that it's not only timely (an interpreting session can take between 15 to 20 minutes), but it's also very costly. This means that a simple problem or query could cost far more than is necessary, in both time and money.
The reality is that not every visitor at a police station is under arrest. Many go to the police station because they have lost something or have had something stolen. It became clear that the Metropolitan Police would need a more efficient way to communicate with these people.
The Solution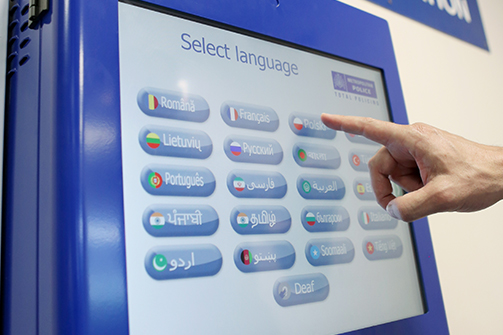 Working closely with the London Metropolitan Police Service, Cammax deployed a cutting edge multi-lingual kiosk system that would act as an initial contact solution for the police; in a bid to assist foreign language speakers.
Cammax developed a dual-screen system that uses 256-bit SSL encryption for the transmission of data. The first screen is normally manned by the police office and the second is for the interviewee. In use, the police officer drives the conversation forward, using a system that is menu-based with a tree and branch format.
With over 300 languages spoken in London, Cammax's kiosk system was designed to support the top 20 languages in detail (covering approximately 90% of language requirements), and 100 languages in total. All of the kiosks were also made available in spoken and word format, just in case the interviewee could not read. On top of this, the multi-lingual kiosk system is also very useful in aiding the deaf and hard of hearing. Via a unique interface, members of the Deaf Community are able to select their preferred method of communication; whether that's lip reading, written notes, or an extensive set of Sign Language video questions and responses.
Success in to the future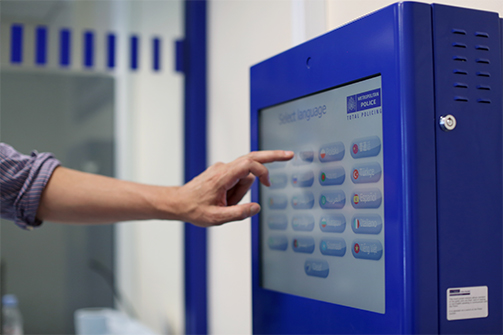 With such flexibility, the multi-lingual kiosks proved very useful for police officers and visitors during the 2012 London Olympic Games; making life a lot easier and a lot less stressful for all parties concerned. Multi-lingual kiosks were also tailored to comply with the Police & Criminal Evidence Act (PACE), which states that the arresting officer must explain – in their own language – why they are arresting someone. Under the Human Rights Act, the person in question must understand why they are being arrested.
Moving forward, the technology is helping to support incredibly diverse communities across London and this solution will help Police Officers conduct their roles more efficiently and effectively for years to come.