Introduction
Following an introduction to SilverRail at a Smart Ticketing conference, Cammax and SilverRail for many years discussed the benefits and improvements that a joint collaboration on a Smart Rail Ticket Vending Machine (TVM) could offer to the market if an opportunity came along.
Cammax and SilverRail jointly pitched the idea to several Train Operating Companies (TOCs) however due to lack of funding available or lack or resource available within the TOCs for such an innovative project nothing progressed. Rail has always been a notoriously difficult market to enter for a new supplier and after many years and conversations with RDG, Cammax and SilverRail started to have some interest in the TVM proposal.
In 2019, Cammax and SilverRail started conversations with the Abellio Group about the possibility of putting the functionality of a website on a TVM. The idea was to give passengers the features they have come to expect from a website but at a station. With SilverRail's existing TIS solution and Cammax's recent work with Smart Ticketing kiosks a new TVM concept was created.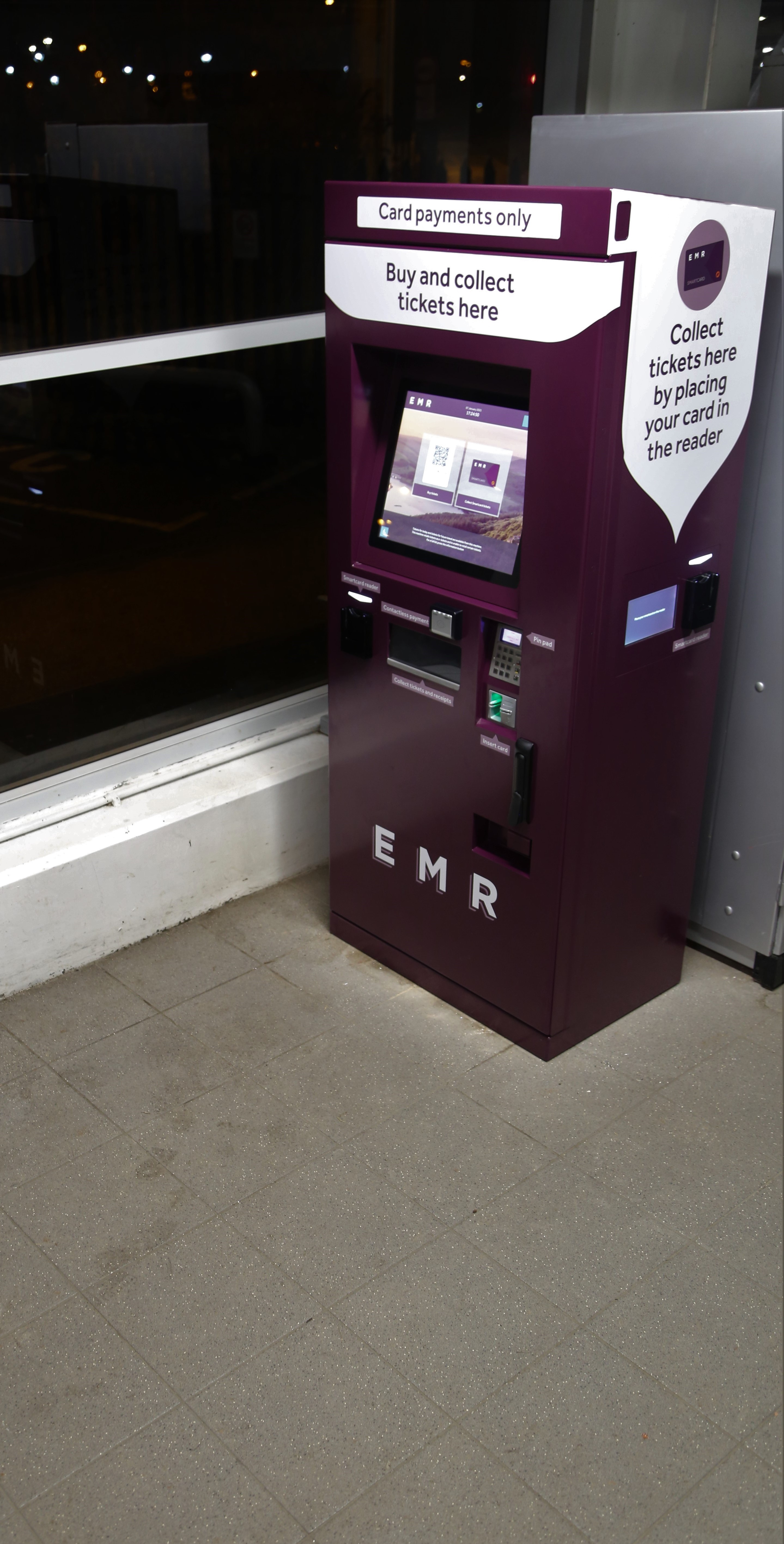 The Requirements
With the support of the Abellio Group Project Team and SilverRail, Cammax started discussions with East Midlands Railway about a solution for a committed obligation within a new Rail Franchise bid. The idea was to provide a low cost TVM solution to 40 low footfall stations which would provide the same flexibility and pricing to the customer that they have come to expect from online ticket purchasing, but at a station.
Ticket Vending Machines (TVM) in rail have hardly changed in 15 years. This new product would move the TVM from being a basic pre-programmed ticketing machine to a dynamic shop window that EMR can offer their full product range through, even down to last minute on-the-day advanced tickets.
The ORR (Office for Rail and Road) has been pushing for some years for TVMs to be clearer and fairer to the customer as they often prevented customers from accessing cheaper tickets, selecting the wrong ticket and sometimes resulting in the walk-up market paying more.  This new Smart TVM product solves that problem.
Implementation
Once EMR gave the go ahead for the new Smart TVM pilot, a joint project a team was created which met on a weekly basis and consisted of EMR, SilverRail and the Rail Delivery Group (RDG). RDG played a crucial role in the project ensuring the RSP certification was completed to spec and key Smart ITSO functionality behaved as required.
Throughout the Project the main aim for the Project team was to create a highly customised, low cost TVM which was tailored to the requirements of East Midlands Railway but would also be easy modified to be used for other TOCs as required. The software was developed by Cammax to link the TVM to the SilverCore API , and by changing the branding on the software and the TVM it could easily be adopted by another TOC.
Steve Lloyd, Smart Ticketing Manager for EMR said:
"This is such an exciting time for East Midlands Railway. "

"Smart kiosks will support the industry's ambition for ticketless travel and to be the first TOC to do so is a great achievement. "

"With the Smart kiosks being much more user friendly, we hope our passengers on our Regional routes will see the benefits of them as they are installed across our network throughout 2021".
Why Cammax and SilverRail

As a market leader in the design, development and supply of payment systems, Cammax were able to demonstrate an impressive track record of the successful delivery of a number of large projects for local authorities and other organisations throughout the UK. These projects encompassed ticketing and payment software as well as customised machines, implementation services as well as dedicated support and maintenance services to support their partners throughout.
The SilverRail Ticketing Issuing System (TIS) being rolled out across all Abellio TOCs was the perfect solution to integrate the Cammax TVM to. The established TIS was already in place for many Rail systems. Therefore it made sense for the Cammax TVMs to use the business logic encapsulated within SilverRail's SilverCore TIS for Shopping, Booking and Fulfilment of advance, off peak and walk-on rail tickets.
Challenges
As a joint project the biggest challenge for SilverRail and Cammax was the challenging process of getting the software accredited with RDG. Getting Rail Settlement Plan (RSP) certification proved a very time consuming element of the project as this application was being developed from scratch. However, the wonderful work of the SilverRail accreditation team and RDG team made this process more manageable.
The Cammax software development and the RSP certification was also made more difficult as this happened through 2020 COVID lockdowns. This meant no face-to-face meetings or testing could occur so everything happened remotely.
Another challenge for the Project Team was getting sign off to create a TVM which could print an E-ticket on normal receipt paper. This was a new concept to the industry which had never been done before.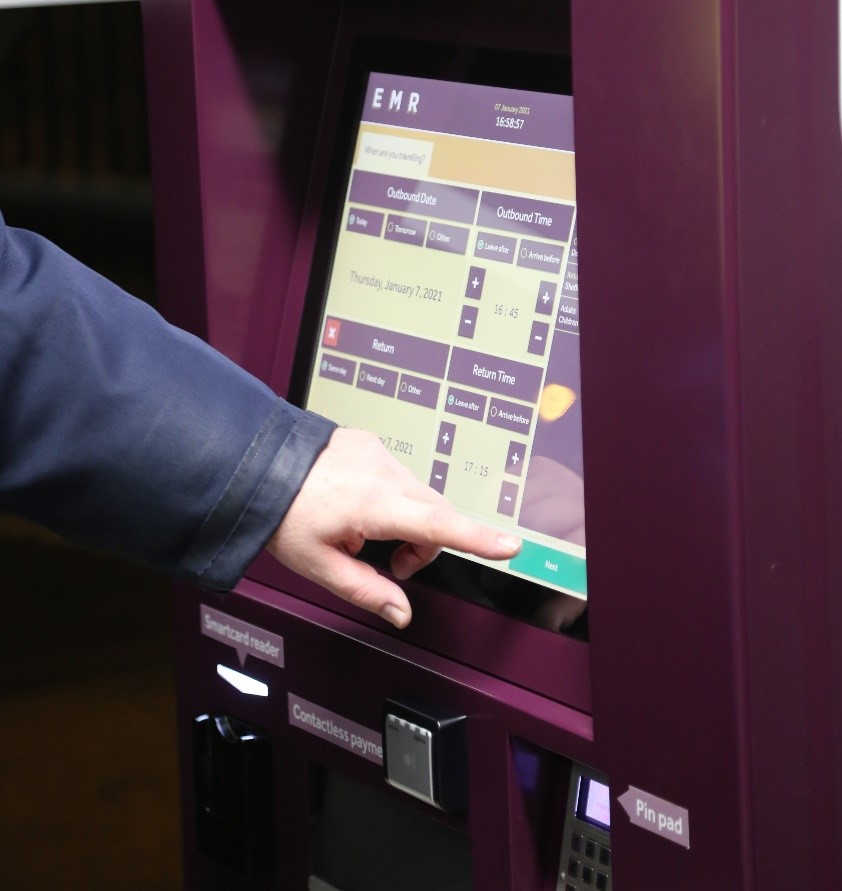 One of the aims for the team was to create a product which would be seen as an improvement to the existing products in the market. Visually the new kiosk has a much clearer and easier to use screen, is much more intuitive and user friendly, along with being cheaper to install and run than EMR's existing TVMs. As the kiosk is card payment only, this removes the need for cash handling and any potential faults associated with this.
Despite the challenges faced we have ended up with a quality product that is functional, easy to use and enhances the user experience, effectively putting tickets in the hands of rail passengers prior to boarding the train.
The Outcome
EMR's new Smart kiosks issue both advance and walk-up tickets as a printed bar code or directly to a passenger's smart card, which improves the overall customer experience and supports revenue protection. Additionally, there is a smart card collection device on the side of the kiosk to collect pre-purchased smart products.
The Smart Kiosk uses the same Ticket Issuing System (SilverCore) and UK Journey Planner that SilverRail uses for supporting customers through web and App rail retailing stores. With the ability to buy tickets up to 90 days out and take advantage of on-the-day advanced ticket pricing, passengers will now have more access to cheaper fares.
Futureproofing
Smart kiosks will support the industry's ambition for ticketless travel, is much more modern and reliable, and will improve the overall experience for rail passengers.
EMR will also be continuing to work with Cammax and SilverRail to improve these machines for the future. The Kiosks could print bar code tickets instead of the traditional orange mag stripe tickets and in the next phase will also support the direct purchase of and the pick-up of pre-purchased ITSO smart tickets.
]The first Smart kiosks are in operation at Derby and Uttoxeter stations. For Phase 2, an additional 28 machines will be installed late August/early September this year.
Smart Rail Case Study Brochure
For more information about this exciting project please navigate through the case study brochure below. Alternatively, download your very own copy by clicking the 'Download' button below.