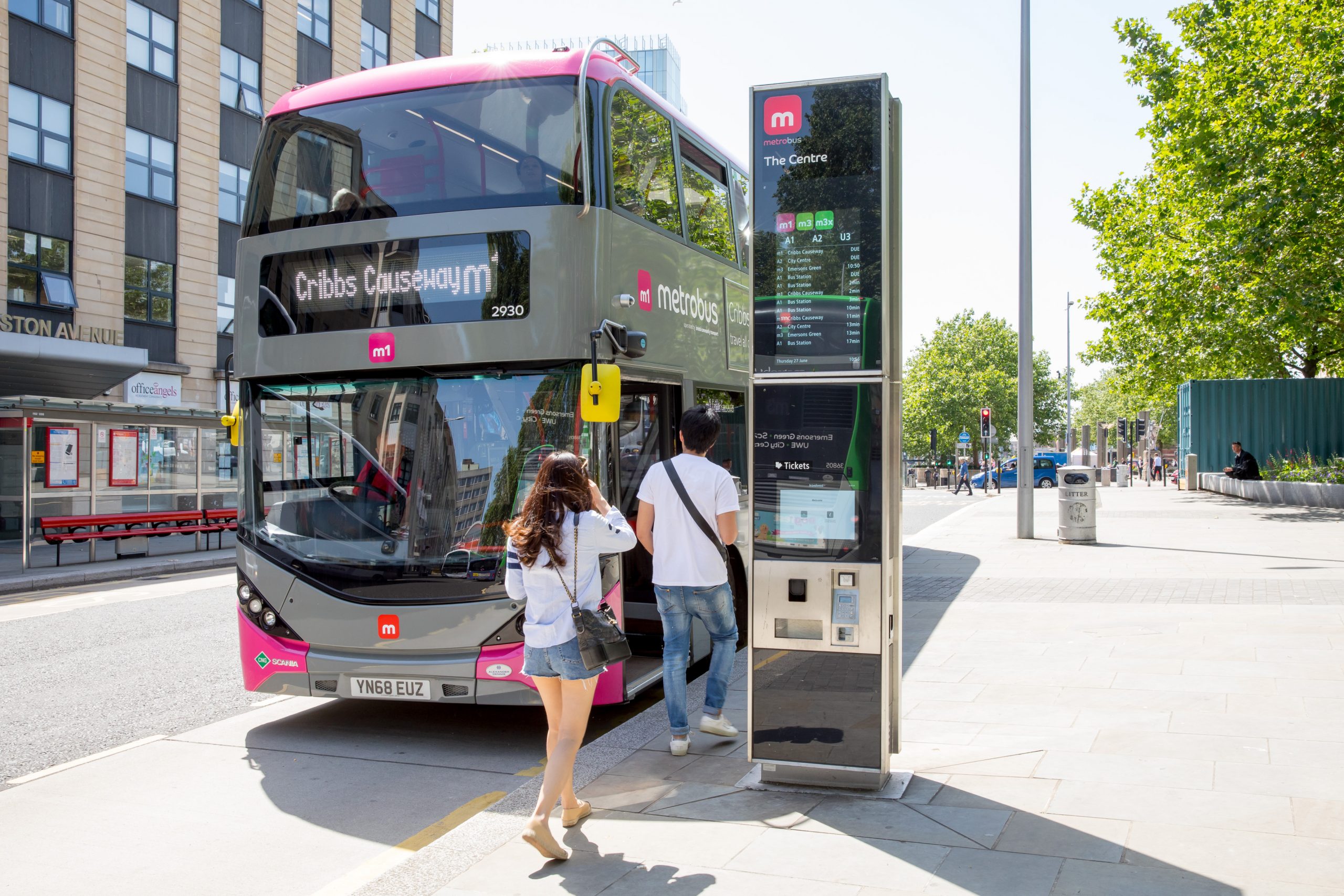 About Bristol City Council
Bristol City Council is the local authority of Bristol in Southwest England.
In recent years Bristol City Council have launched many pioneering public transport initiatives designed to reduce carbon emissions, support sustainable economic growth, promote accessibility, and improve transport connectivity to parts of the region that are poorly served by current public transport links.
In 2018 the council joined forces with North Somerset Council and South Gloucestershire Council to establish the Metrobus, a rapid bus transit system.  Metrobus offers faster, more frequent, and more reliable services with direct routes to key destinations throughout the Southwest. Supporting the council's green agenda, Metrobus uses modern, environmentally friendly vehicles with USB sockets and free Wi-Fi, whilst buses were built with an extra pair of doors to speed up boarding.
In a bid to improve customer satisfaction, Metrobus is a 'buy before you board service' with ticket machines at every stop, resulting in less queues and quicker journey times.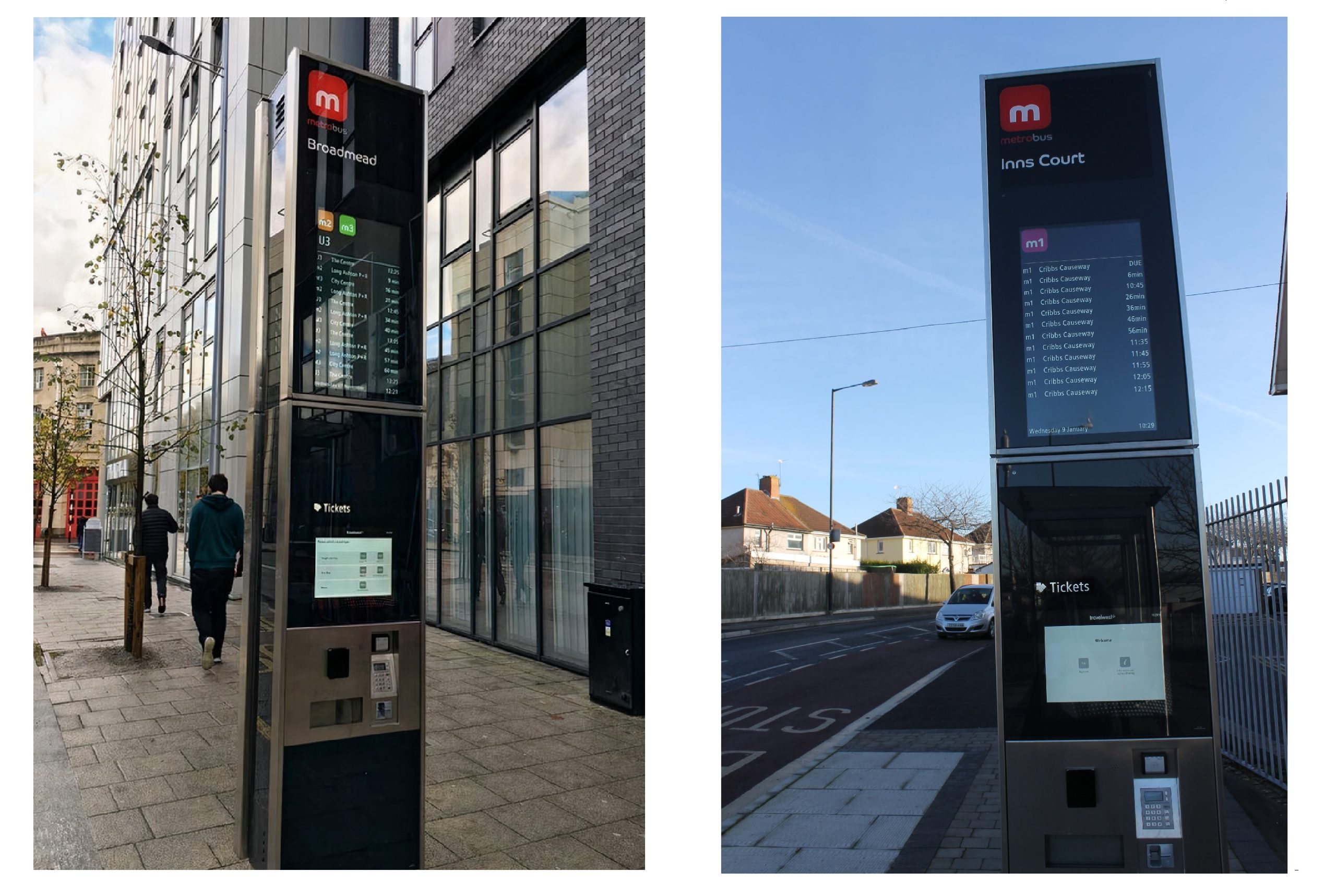 Cammax & Bristol City Council- The Journey to Cashless Travel
Following a competitive tender process, Bristol City Council commissioned Cammax to design, build, install and maintain 80 bespoke Ticket Vending Machines (TVMs) at Metrobus stops throughout the Bristol region.
Cammax were selected after demonstrating an impressive track record for effectively transforming business requirements and dreams into real world systems that deliver tangible benefits for all parties.
Our experience successfully delivering complex projects for local authorities such as Nottingham City Council and City of York Council was also valued highly; these projects encompassed the bespoke design of ticketing and payment software as well as customised machines, implementations services and dedicated support and maintenance.
After initial discussions it was evident that the Metrobus team had a very clear vision for the final product they wanted and as such required a highly bespoke design which no other manufacturer had attempted before.
As well as facilitating the sale of paper and smart tickets, the TVMs, which came to be known as 'iPoints', were required to provide Real Time Information with RNIB REACT3 functionality, integrated journey planning and an emergency intercom offering an immediate link to the council's Emergency Control Centre.
Cammax also delivered a completely bespoke web portal and content management system for monitoring and managing the TVMs, tailored specifically to the requirements of the council.
Finally, and to safeguard against the threat of vandalism, the iPoints were manufactured from marine grade stainless steel and clad with reinforced jet-black security glass.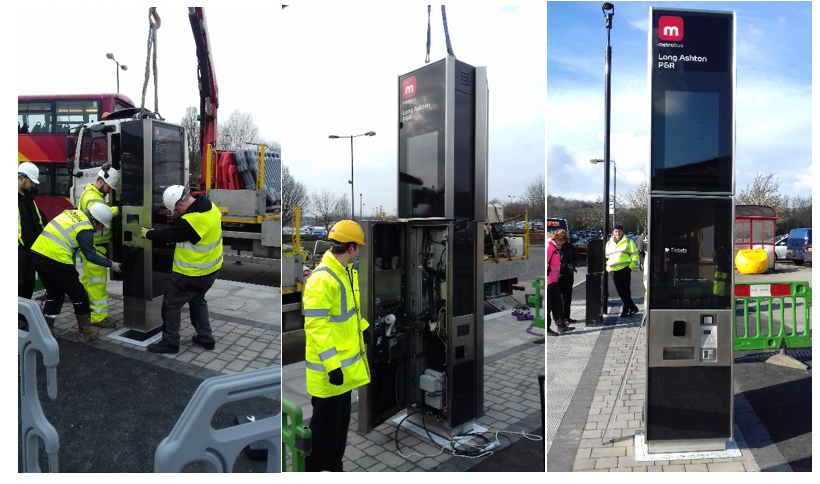 Rollout
With the requirements for a bespoke design, cutting edge ticketing functionality and customisable, centrally managed software, our work with Bristol City Council has been one of our most ground-breaking projects to date.
Since the TVMs were installed, they have grown to become an integral part of the Metrobus system and regional bus passengers have lauded the ease in which they can now purchase tickets at the bus stop via credit, debit, mobile pay or smartcard and access reliable Real Time Information about delays or any changes to services.
Two years after launch Metrobus has carried over 4 million passengers and over 700,000 transactions have been made via the iPoints. Underlying the reliability of all Cammax Smart Ticketing products, after more than two years following the launch the iPoints operate well with minimal faults and have a consistent overall uptime in the region of 99%.
Find Out More
To find out more about our pioneering work with Bristol City Council please check out the case study here. Our Bristol City Council case study is also available in a handy PDF brochure, which can be downloaded here.
For more details about the features and benefits of our Smart ticketing systems please visit our Smart ticketing solutions page now.