Lloyds Pharmacy group was first established in the early 1970s and since then the chain has grown to become one of the most prominent healthcare providers in Europe, and one of the biggest pharmacy chains in the UK.
Given our experience in providing market-leading healthcare solutions, when sister-company Protouch, working in tandem with Cammax, were approached to help improve the pharmacy image and the way customers access healthcare, we were delighted to work with the Lloyds team to help them achieve their objectives.
The project
The project remit was to enhance the Lloyds image and to transform the way customers access healthcare services. We were tasked to come up with solutions that would enhance the customer experience and augment healthcare services by providing  accurate and updated product information for both online and in-store products.
The existing Lloyds approach of  distributing traditional leaflets about products and services was labour intensive, timely and outdated so a new solution was urgently required.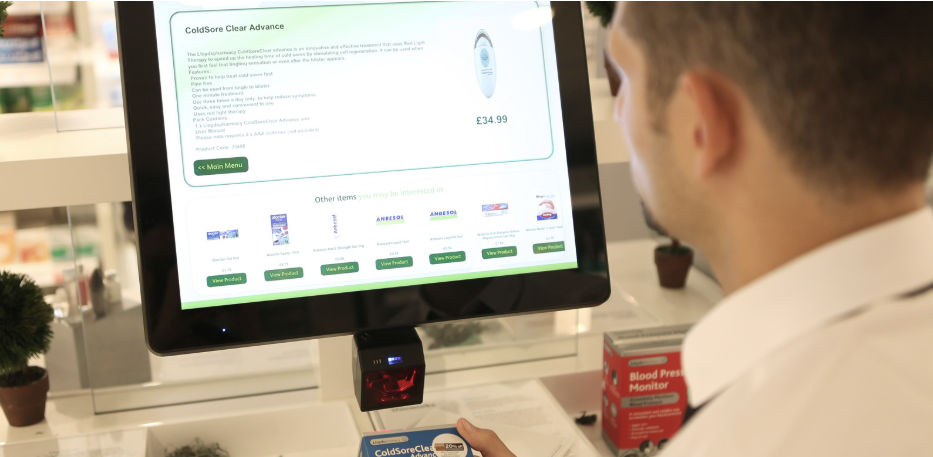 The Solution & Results
In order to adddress these concerns, the pharmacy chain turned to self-service technology in the form of touch screen kiosks, thermal printers, kiosk software and full service support. This approach was considered because deploying such technology has been proven to reduce labour costs, employee time and collateral production costs
Further to selecting the aforementioned tech, a bespoke application was produced by programming consultants to enable Lloyds Pharmacy data to be integrated into the software, allowing interface with the back-end system.
To begin with, the project started with a 10- store trial to review touchscreen kiosks usage before a subsequent roll out into 70 further stores.  Since deployment, the health kiosk machines have reportedly been given a big thumbs up and the customer data collected has emphasised the high level of interaction with the kiosks and particular features such as product scanning; where customers can obtain information on the product,  read reviews, watch videos, purchase and have their selected product(s) delivered with limited employee interaction.
The ongoing success of the project has led to Lloyds delivering on its ambition to provide efficient healthcare services.
For more information about our healthcare solutions, or to view our range of other leading kiosk solutions, please visit our solutions page or get in touch with Cammax today.