About Nottingham Trams (NET)
Nottingham Express Transit (NET) is a 20-mile-long tram system in the East Midlands city of Nottingham, operated and maintained by Nottingham Trams Ltd on behalf of The Tramlink Nottingham Consortium.
In 2004 phase one of the tram system was opened to the public for the very first time. Following a major expansion programme in 2015, an extra 17.5m of track was added, alongside several new vehicles, taking the total fleet to more than 30 trams.
Key members of Tramlink include Keolis, one of the world's leading operators of light rail services. Drawing on their international expertise, several Keolis-led innovations have helped to deliver more reliable and better integrated services on the network.
Today, NET ranks as one of the most advanced light rail networks in the UK, boasting extensive shared-street running and over 3,000 Park and Ride Spaces, as well as other technological innovations that have helped to greatly improve the passenger experience.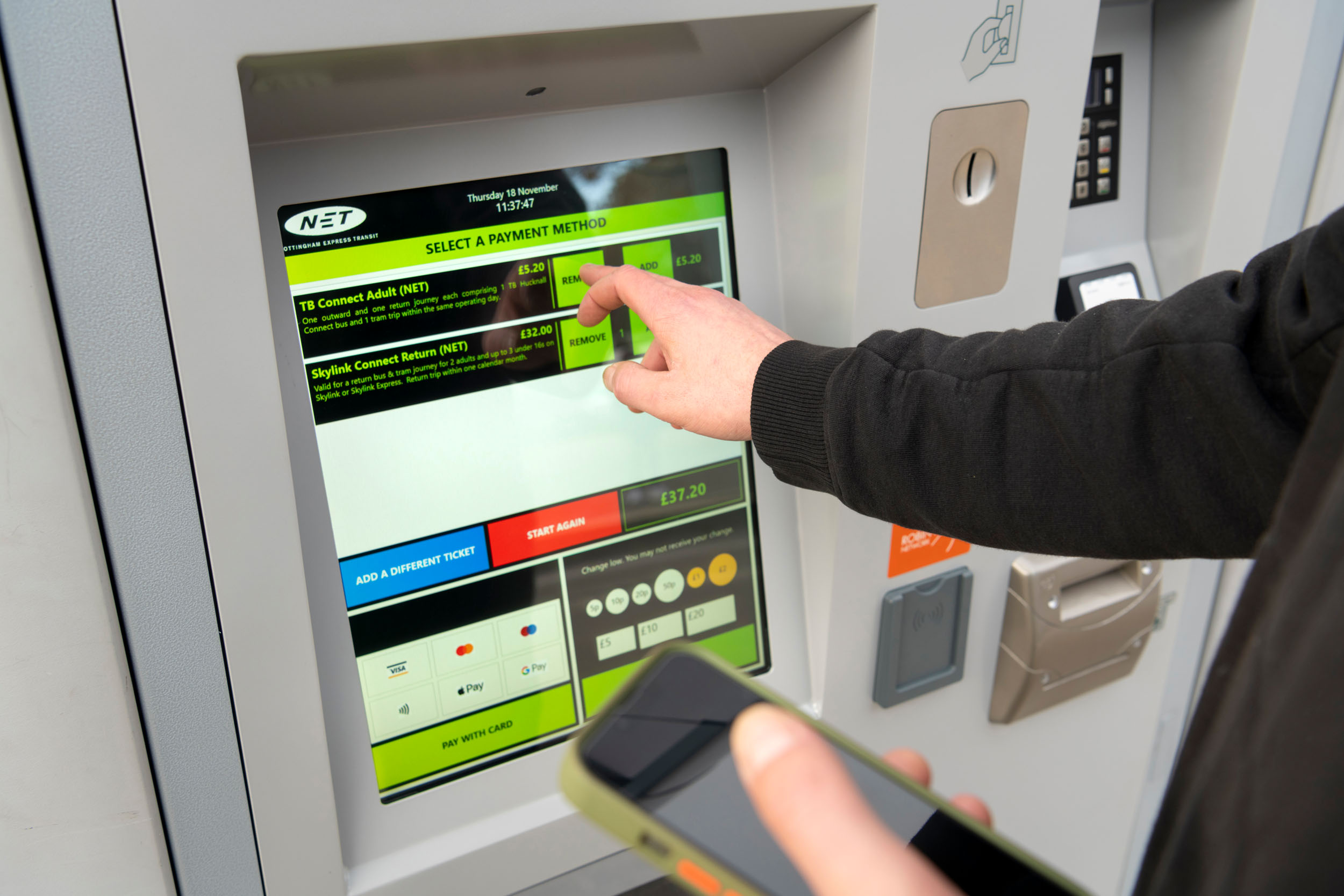 Cammax & NET- Replacing an Existing TVM Network
In 2020 Cammax and NET started discussions about the prospect of replacing the existing Tram TVM (Ticket Vending Machine) network with 118 new cutting-edge kiosks.
NET's ambition was to upgrade and enhance their estate's technological capabilities, bringing their payment and ticketing system in line with modern day customer expectations. NET also wanted to increase the options for smart card users across the city and incorporate the widely used Robin Hood Smart ticketing methods for all service users.
With a growing reputation of one of the UK's pre-eminent suppliers of Smart Ticketing and payment systems, Cammax were ideally placed to help NET realise their aims. Cammax could also call upon the skills and experience garnered from successful collaborations with other Smart Ticketing customers including Nottingham City Council and City of York Council.
After extensive planning and consultation, it was clear that Cammax could satisfy all NET's requirements, but the project was not without its challenges and obstacles.
Due to the high volume of cash transactions and the unattended locations the TVMs were due to be installed in, it was essential that the units could stand up to rigorous usage and deter attempts to vandalise and steal cash from the machines. To address these security concerns, Cammax had to devise an ingenious solution: each unit was fitted with an intelligent monitoring module which enables NET and Cammax to monitor the status and wellbeing of each TVM unit in real time.
NET's other requirements included the need for the new high security cash TVMs to be housed in the existing NET Totems which were already in place surrounding the incumbent machines.
This meant that Cammax needed to redesign the housing of our Smart Ticketing TVM so that it could fit into the existing street furniture NET already had in place. These limitations on dimensions, aesthetics and functionality meant that the Cammax design team worked tirelessly perfecting the bespoke design that could be seamlessly incorporated into the existing street furniture.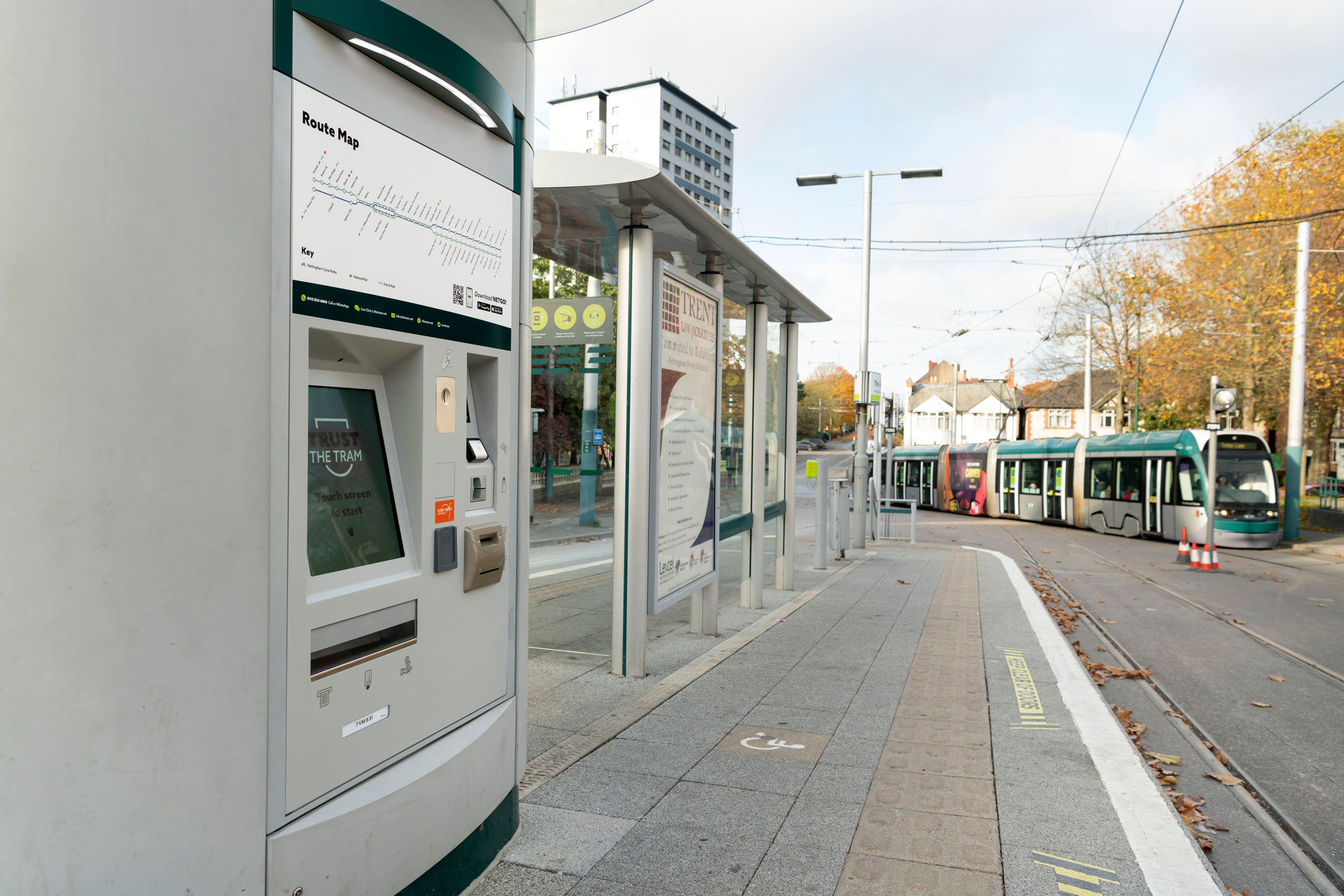 Rollout
When a project involves multiple stakeholders of both new and existing systems, it is crucial that the integrations are carefully scoped, developed, and tested. Throughout the entire process, Cammax worked closely with all partners to ensure all of the system features functioned as originally requested.
The implementation of the new TVMs were driven by our dedicated project management team, who in turn were supported by our expert in-house project team. Cammax project managers worked closely with the Nottingham Trams Ltd project team and the other suppliers involved at every stage of the process from the detailed design, manufacture, testing and installation all the way through to final commissioning.
In 2022, the new TVMs were successfully installed, and post-rollout public feedback has been exceptionally positive. According to a recent survey, over 90% of service users indicated that they prefer the new TVMs to the old.
Additionally, and testament to the reliability of our products, Mandip Bahra, Assistant Commercial Manager at NET Keolis Nottingham, revealed that the availability of ticketing equipment has consistently topped 99% after installation of the new Cammax TVMs was completed.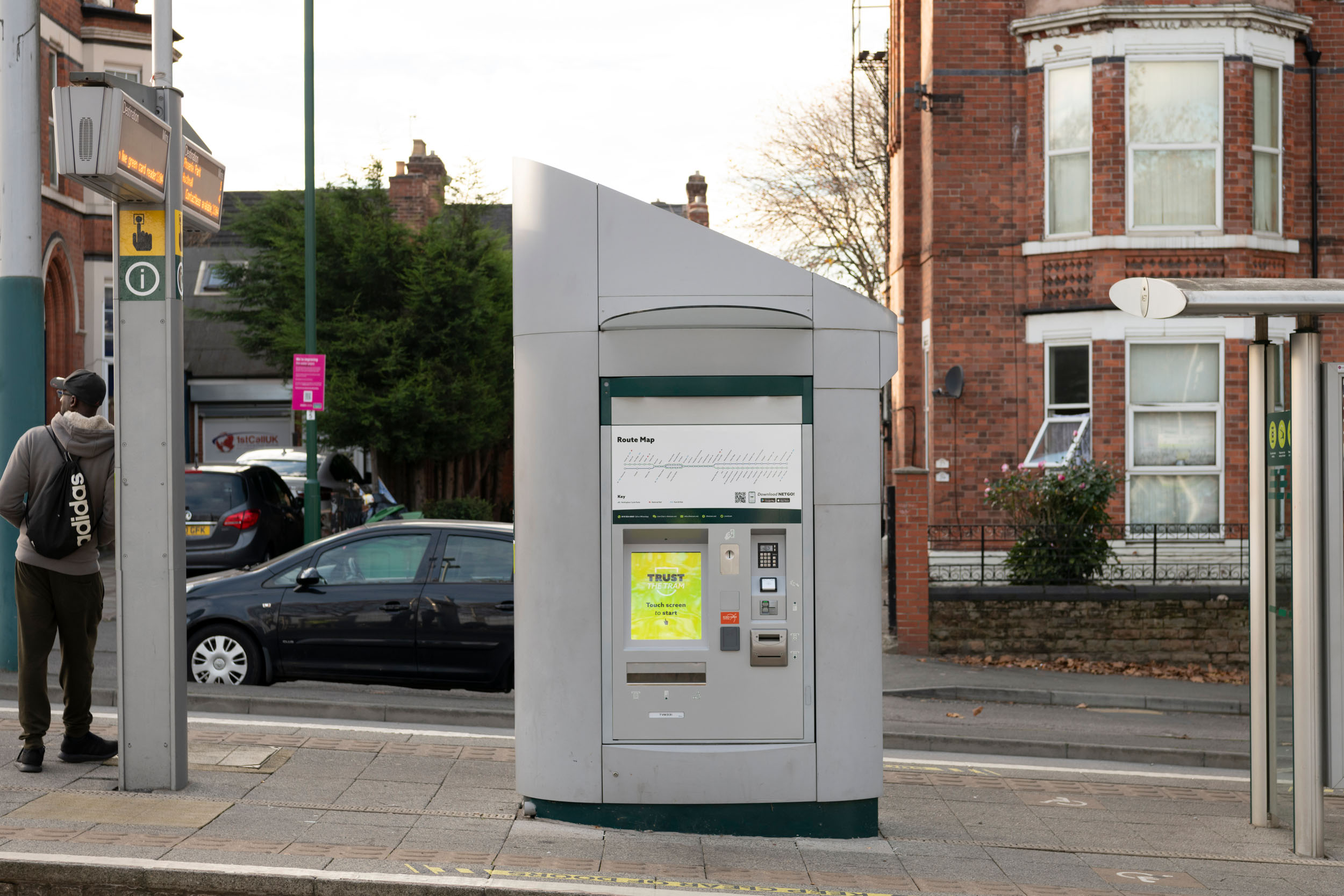 Find Out More
To find out more about our work with NET, please head on over to the NET Case Study page here where you'll also find a handy, downloadable case study brochure.
For more details about the features and benefits of our Smart Ticketing products, please visit the Smart Ticketing product page here.