With millions of passengers every year bustling through busy UK airports in a bid to get from A to B as soon as possible, and with society growing far more accustomed to the speed and convenience in which they can purchase a plethora of products and services, demand for seamless, streamlined and frictionless travel has never been greater.
In recent years UK airports have made notable strides as they aim to enhance the passenger travel experience and remove pain points by utilizing new technology. Head to most UK terminals now and you will be greeted by a wave of innovations all designed to boost efficiency and enhance customer satisfaction; everything from the introduction of RFID e-badges so that luggage can be tracked, to fast track payment kiosks- such as the ones deployed at Liverpool's John Lennon airport– that enable you to bypass queues and board a flight with minimal fuss.
However, despite these welcome advancements, one of the longstanding bugbears echoed by travellers, airports and taxi firms relates to the time it takes to book and pay for a cab once crowds have grabbed their luggage and made it through arrivals.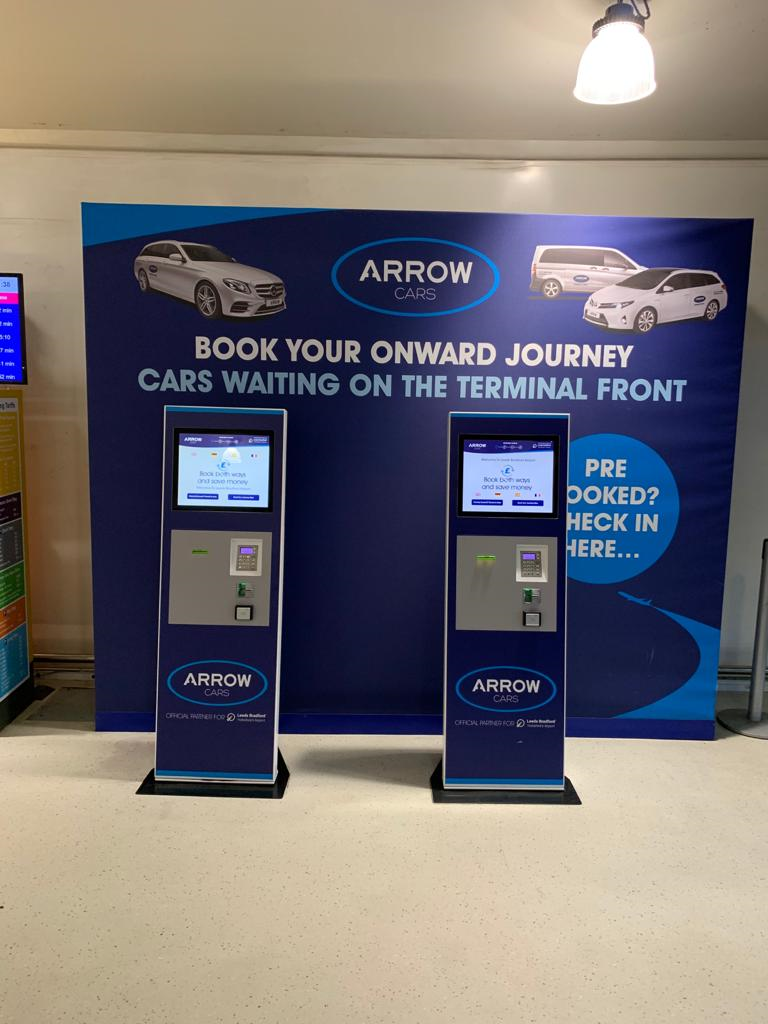 Queues, delays and confusion often ensue as passengers huddle around airport taxi ranks and desks in search of a driver who will take them to their onward destinations. After a long flight this whole process can be arduous, and that's without acknowledging the impact this process has on operational efficiency and, ultimately profit, for taxi companies.
Fortunately, thanks to hard work and innovation at Cammax, a far more smart, viable and efficient solution is now available.
Cammax strike Arrow deal
In 2019 Cammax was awarded a contract by national taxi company Arrow Cars to design and manufacture a range of smart self-service booking machines. Arrow, originally founded in Leeds, West Yorkshire, was looking for a solution that would speed up booking and payment processing as well as reduce queues around the taxi desk at busy airports.
Following consultation, it was clear that Arrow needed an intuitive software solution designed to facilitate seamless bookings and payments- as well as expertly manufactured machines that would be durable, eye-catching and well suited to specific airport locations.
With years of experience delivering smart payment and ticketing solutions to many industries including travel and parking, the Cammax team knew exactly what was required and developed a range of Blade and Cirrus Outdoor kiosk machines to help solve the problem.
The Cirrus Outdoor is one of the most popular credit/debit card payment machines on the market. Equipped with a high bright touch screen, the unit delivers a fantastic user experience and utilizes full colour designs and intuitive user interfaces.
The machine can also be fitted with PCI compliant card payment devices such as PIN pads, card readers and contactless card readers, allowing card payments to be processed for a variety of products and services, whilst the thermal receipt printer provides customers with proof of purchase, or tickets where required.
The Cammax Blade boasts a versatile design and allows the flexibility of utilising numerous hardware configurations such as payment and printing.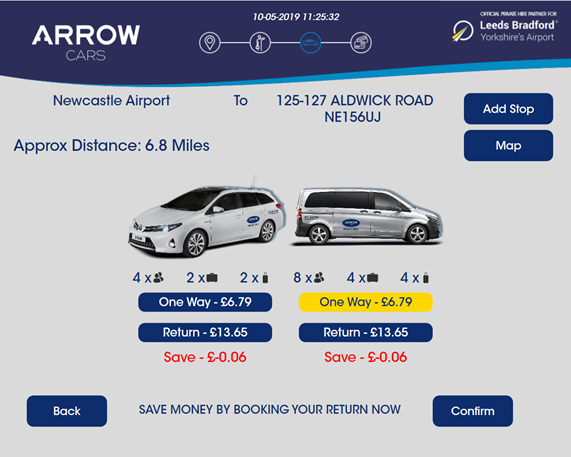 Tailored solutions
As part of the project Cammax were also required to develop a reliable, tailored and intuitive software system that would connect drivers to passengers and allow users to perform a multitude of different tasks.
With the self-service booking machines passengers can:
Book jobs quickly and easily using the clear, simple instructions on the touchscreen monitor
Enter the passenger name, destination and choice of vehicle type
Get a quotation for fixed-price jobs
Print a confirmation ticket for their booking
Pay for the job via secure card payment/contactless and receive a printed receipt
Check the status of their booking on- screen
The machine software also integrates directly into the Arrow driver dispatch system (icabbi) so drivers are immediately connected and kept up-to-date with bookings in real time.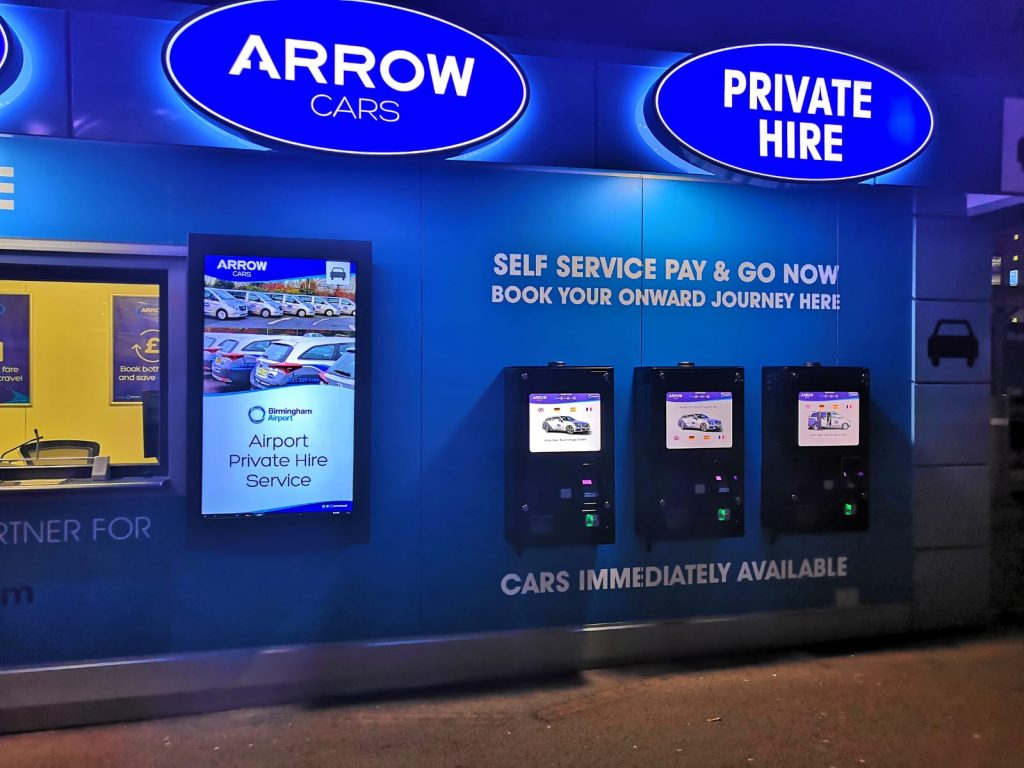 Nationwide rollout
Since August 2019 multiple self-service booking machines have now been rolled out across several UK airports, enabling passengers looking for a taxi to process their own bookings for their onward travel.
The machines also enable pre-booked customers to register their arrival and their cars will be dispatched immediately, delivering a seamless experience and negating the need for customers to visit the taxi desk which will significantly reduce queues and wait times.
Self-service booking machines can be found on the very front of the terminal by the pick- up point at Newcastle Airport, in the arrival halls at Leeds Bradford Airport, and at the Birmingham airport Arrow site.
Booking kiosks can also be found in several domestic baggage reclaim halls.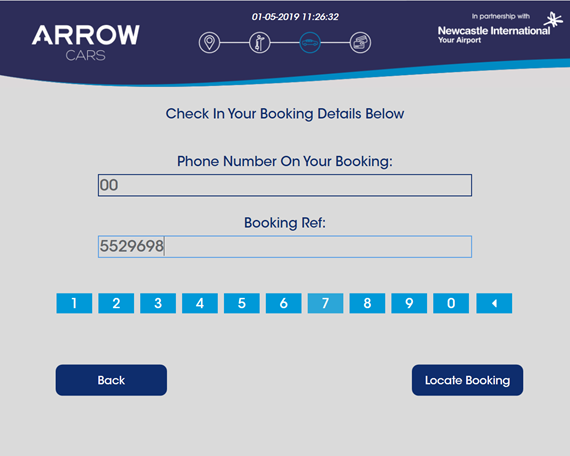 The future
With more Cammax self-service booking machines ready to be rolled out imminently, plane passengers across other UK airports look set to benefit from swifter and more efficient private taxi hire in the not-too-distant future.
However, although airports and taxi firms are starting to embrace more smart and intuitive technologies, passenger numbers are forecast to increase exponentially over the coming years, posing further challenges to businesses within the sector.
Further, It's no secret that today's airports face mounting pressure to upgrade their infrastructures and improve the overall passenger experience but that can only be achieved if different stakeholders continuing to invest in smart technology and ensure that frictionless travel forms the basis of all key decision making.
For more information about how your company can achieve seamless travel by deploying smart kiosk solutions get in touch with a member of the Cammax team today.