Liverpool John Lennon is the latest airport to benefit from the deployment of Cammax's Airport Security Fast Track Kiosk. They follow a number of UK airports who have installed these kiosks in an attempt to encourage passengers to upgrade to fast track on the day of their departure.
The Airport Security Fast Track Payment Kiosk uses bespoke software in our Fast Track Payment Kiosks. With its slimline ergonomic design and small footprint, this kiosk is ideal for busy and congested areas such as airports. The kiosks can be fitted with chip and pin, contactless, cash and smart card readers to accept most methods of payment, and they are able to print both receipts and point of entry tickets.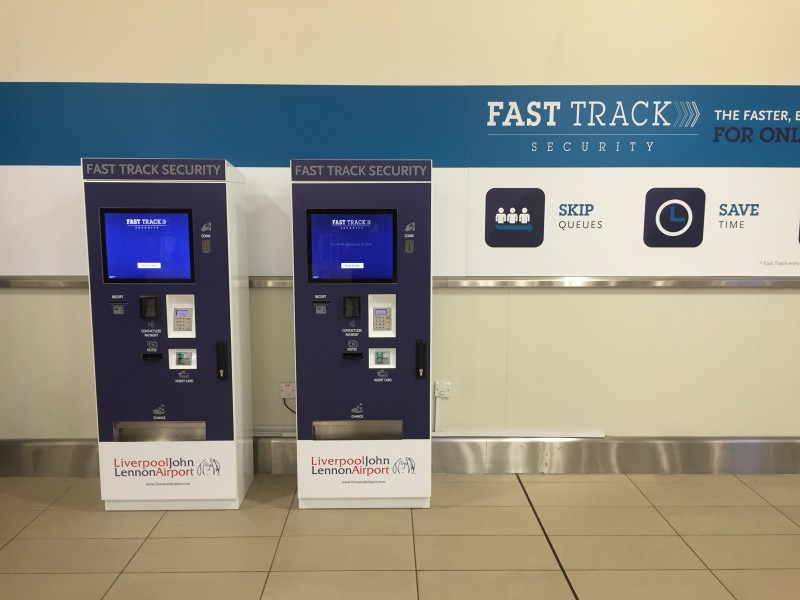 The kiosks can be fitted with bespoke airport security software that syncs up with existing security systems, such as automatic gates, to provide a seamless customer journey. and there is a full back office reporting tool which airport staff can access via a web portal in order to produce analytical reports which can help identify users.
Other functions include the ability to change ticket prices to reflect demand, and software and kiosk branding to suit airport brand guidelines.
The Airport Security Fast Track Kiosks help to reduce customer queue times by providing an option to purchase fast track tickets on the day of travel; this provides an additional revenue stream for airports, which can be reinvested into the facilities and services provided.
The Fast Track Payment Kiosks are also ideal for E-Top Up, A&E Prescription Payments, Council Tax Payment and the purchasing, printing and payment of Loyalty Cards. The kiosks are available for lease or outright purchase. To talk through your requirements, contact us and get a free consultation.