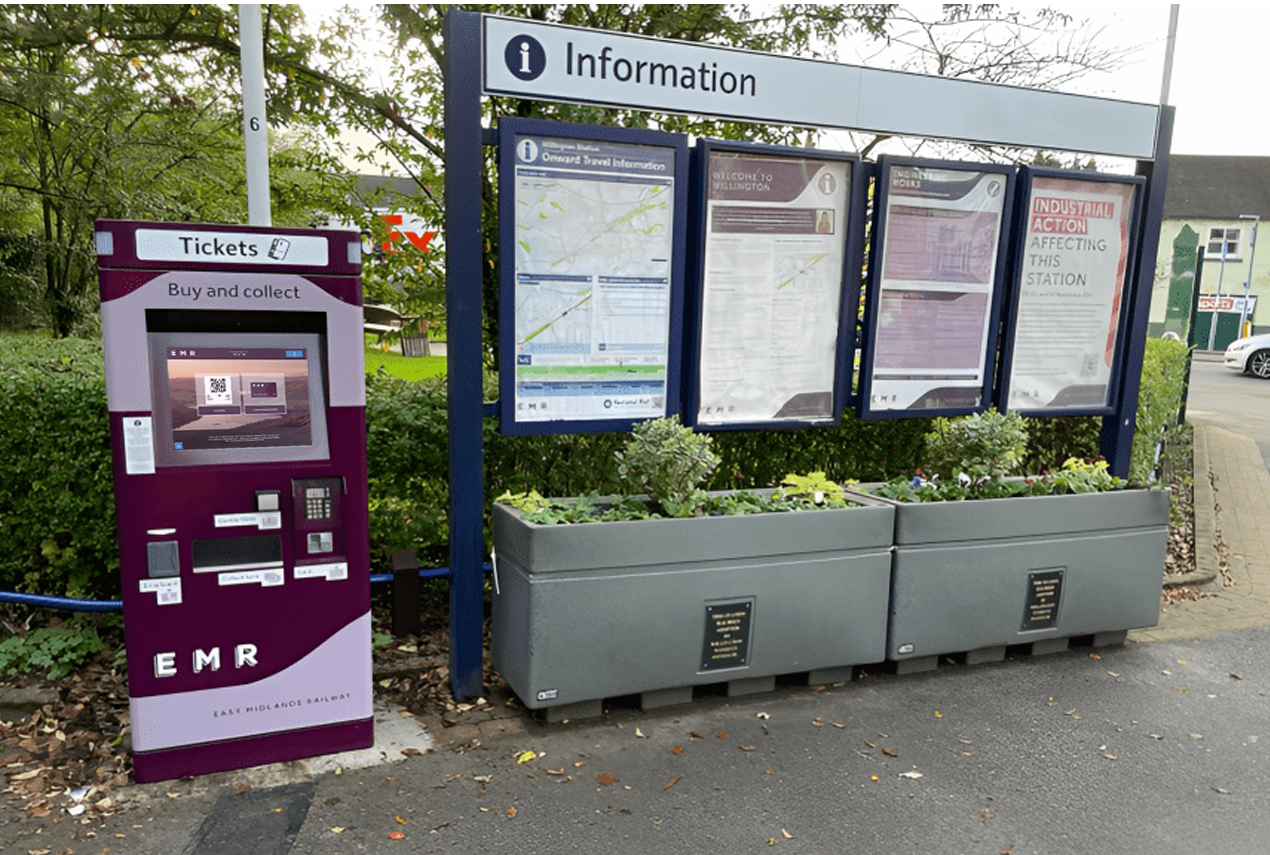 Following last year's successful launch of our ground-breaking Rail Ticketing Vending Machines (TVMs), the second phase of the rollout is currently underway with 28 additional Smart Rail TVMs currently being installed across East Midlands Railway's (EMR) regional network.
Phase two of the rollout, which will see Cammax Smart TVMs installed at smaller stations across Staffordshire, Leicestershire, Lincolnshire, Derbyshire and Nottinghamshire, is being heralded as a welcome boost for regional rail passengers who will now benefit from easy access to greater ticket options and the cheapest fares.
'A Truly Smart Rail Ticketing Kiosk'
As a market leader in the design, development, and supply of payment systems, and with an impressive track record of the successful delivery of several large payment and Smart Ticketing projects, in 2019 Cammax, in partnership with SilverRail, started conversations with EMR about replacing and upgrading their existing TVM estate.
Ticket Vending Machines in rail have hardly changed in nearly two decades and the idea was to create a bold new product that would transform EMR's existing TVM offering from being a basic pre-programmed ticketing machine into a dynamic shop window that the rail company can offer their full product range through, even down to last minute on-the-day advanced tickets.
EMR also wanted the new TVM to be a lot clearer and fairer given that the existing machines prevented passengers from accessing cheaper tickets. Some rail customers were even selecting the wrong ticket, resulting in the walk-up market paying more.
Following months of hard work, and after overcoming several challenges, the Cammax Smart Rail TVM, the UK's first truly 'Smart' rail ticketing kiosk, was developed and the first machines were deployed at Derby and Uttoxeter Station last year.
Satisfying EMR's requirements, the new Smart kiosks issue traditional walk-up fares to customers whilst offering a full range of national Railcard and local discounts. Advance purchase fares for those passengers who are not travelling immediately and are happy to travel with a little less flexibility are also available, whilst the TVM's Smart Ticketing functionality enables customers to purchase a ticket in advance and collect it from the machine.
The new Cammax Smart TVMs are also far more intuitive and user-friendly making it easier for passengers to find the cheapest fares, with a touch screen and contactless card payments supported.
Finally, in addition to the Smart Ticketing TVM functionality, EMR and Cammax have upgraded 12 of the TVM locations to include Real Time Passenger information. This is a secondary screen module located on top of the main Ticketing screen which can help passengers stay informed of the next train available and update passengers on any delays or cancellations. This is key information which may not be currently available at smaller stations. The aim is for the TVM's to be able to be used as a key point of information for customers when Customer Service Staff are not available.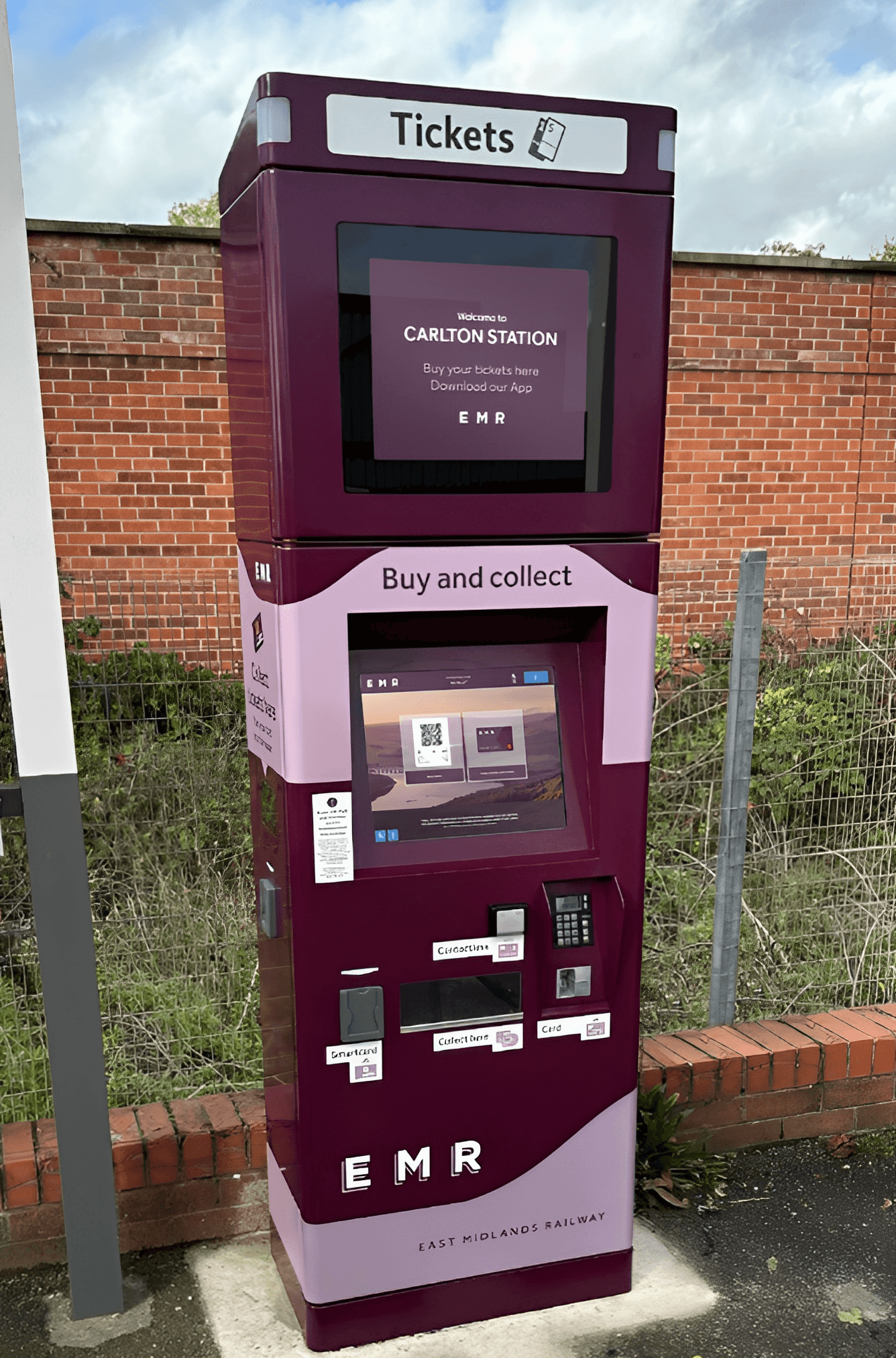 Futureproofing
In line with EMR's ambition to consistently improve the overall experience for rail passengers, Cammax is continuing to work tirelessly to enhance the machines and later this year the Smart Rail TVMs will be upgraded to allow purchased tickets to be applied directly to a Smartcard and some Season Ticket products.
Commenting on the ongoing rollout of the new Smart Rail TVMs Simon Pready, Commercial Director at EMR, said: "We want to offer customers as much flexibility as possible when purchasing tickets and that's why the introduction of these new Smart Kiosks is great news.
"As well as other features, they offer customers a full range of eTickets and the same fare offers that they would otherwise access online. We hope our regional customers enjoy the benefits of using them when they are introduced across our regional network in the next few months."
To find out more about our ground-breaking work with EMR, please read our comprehensive case study by visiting this page or flick through the case study brochure below.