Passengers in York are set to become the latest to benefit from faster and more convenient travel thanks to the hard work of Cammax and City of York Council (CYC).
City of York Council first worked with Cammax to deploy 11 ITSO Smart Outdoor Card Dispensing Kiosks for all six Park and Ride sites throughout York. Following the success of that initial project, CYC returned to place an order for 5 additional kiosks.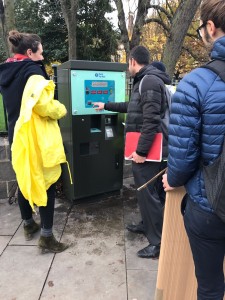 All of the kiosks are able to dispense and sell 'All York' tickets including Day, Weekly, Monthly, Annual Tickets as well as all the required Park and Ride Tickets. Passengers can also use the machines to pay for their journeys or check what is already on their card. 'Park & Ride', First York, Transdev, Cityzap and Coastliner tickets will be available for purchase alongside 'All York' tickets which are valid on all operators' buses within the City of York area.
'York by bus' kiosks are located at:
· All six York Park & Ride sites
· Piccadilly
· Rougier Street
· Exhibition Square
· Opposite York Station
· Stonebow
In addition to the kiosks, CYC also procured the Smart Retail Point (SRP) which Cammax initially developed for SYPTE (South Yorkshire Passenger Transport Executive). The SRP is a desktop POS (Point of Sale) management application which allows the passenger transport executive or Third Party agent to sell and/or manage cards via an existing PC or standalone Epos unit.
Now that the kiosks have been successfully tested and deployed, last week, Council leaders descended on the City Centre to herald a new era for transport in the area.
Cllr Ian Gillies, Executive Member for Transport and Planning, said: "The introduction of the 'York by bus' smartcard will allow passengers to simply tap and go when they board the bus. We hope that this will make bus travel even more attractive and further boost bus passenger numbers."
Cammax are also currently working with York to add the new "First" tickets and TransDev products into the list of available tickets dispensed by the TVM (Ticket Vending Machine).
This latest success caps a momentous few weeks for Cammax following the news earlier this month that one UK borough has broken the £1m sales mark after working with Cammax to deploy ITSO Smart Outdoor Card Dispensing Kiosks. Gedling in Nottinghamshire was the latest area in the country to benefit from the hard work and expertise of Cammax.