Owing to the popularity of the new Park & Ride facilities launched at Elland Road and Temple green, Leeds is set to welcome two additional stops on Boar Lane at the heart of the city centre.
With increasing numbers of drivers choosing to leave their vehicles at the 800-space Elland Road site, and with demand surging for the 1,000 facility at Temple Green located just east of the city, increased pressure on the bus network has left councils and operators needing to find solutions.
On top of the new stops, operators have also announced that they will be increasing the frequency of peak-time bus services from the Elland Road site to provide a 225% increase in capacity during busiest periods.
SMART Ticketing
The popularity of the new park and ride facilities can partly be attributed to the success of Cammax SMART Ticketing kiosks that have been deployed at each of the sites.
Cammax was initially awarded the contract to supply the West Yorkshire Passenger Transport Executive (Metro) with SMART ticketing kiosks back in 2013 and since then the machines have been successfully installed at each location with ticketing kiosks at Temple Green Park & Ride made ready to use last summer.
SMART Ticketing kiosks help speed up transactions by removing cash from travel. Microchips electronically stored on SMART cards allow members of the public to load tickets and cash values onto cards which provide several benefits to both the public, operators and transport organisations.
For operators, the kiosks remove cash from buses and ticket machines which is expensive to manage and for passengers, registered cards can allow the public to cancel or re-claim lost tickets and the machines also offer the ability to advance purchase at convenient locations.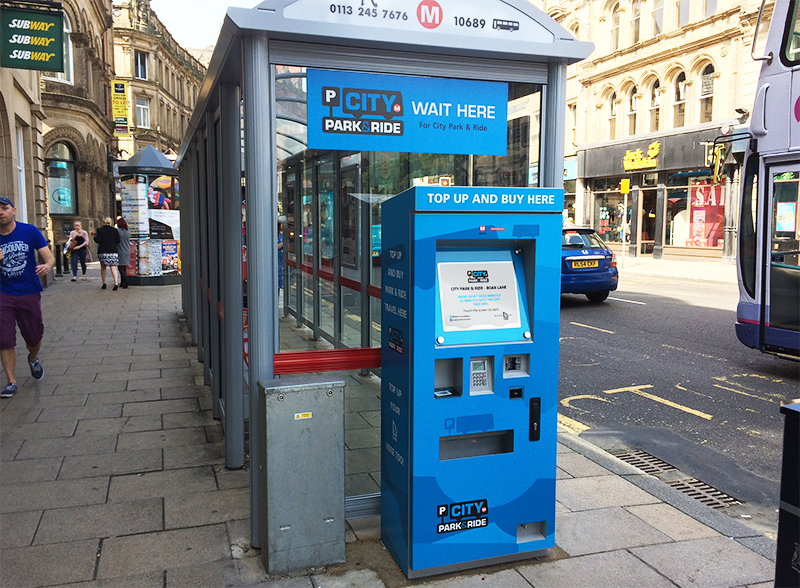 Real Time Information
Passengers have also responded well to the introduction of Real-Time-Information technology that has helped strengthen trust in the bus service.
Real-time information systems provide passengers with estimated arrival times across a range of different platforms. The information is driven by location-based systems, for example, GPS tracking devices on vehicles, increasingly utilised by bus operators. The information can be delivered in various different forms, including via information screens at stops, transport operators' websites, text message alert services or third-party apps.
Transport strategy
Cllr Keith Wakefield, chair of the West Yorkshire Combined Authority (WYCA) said: "The growing numbers of people taking advantage of the park and ride sites at Elland Road and Temple green is having a significant effect on the economic and environmental cost of congestion in Leeds by removing over 6,000 car journeys from the city centre's streets".
Executive member for regeneration, transport and planning, Cllr Richard Lewis added: "Along with improved bus services, park & ride is a key element of our transport strategy for the city so I'm pleased to see it becoming a victim of its own success and requiring us to provide exclusive stops for both services".
Talking on behalf of bus company First Leeds, operations director Will Pearson commented: "Buses are key to tackling congestion and reducing emissions and, in fact, a fully-loaded double decker bus can take 75 cars off the road. If more people try park & ride, rather than drive into the city centre, then this would ease congestion and improve bus journey times. We look forward to welcoming new and existing customers on board in the coming weeks".
Leeds isn't the only area to benefit from the introduction of SMART ticketing machines in recent times. Over the last few years both Nottingham City Council and City of York council have turned to self-service ticketing solutions and new iPoint machines are currently being installed in Bristol, as first reported here.