At the latter part of 2013 Cammax's MD, Julian Rooney, spoke to Kiosk Europe Magazine about how the company worked alongside the London Metropolitan Police Service to develop a cutting edge multilingual kiosk-based platform; in a bid to assist foreign language speakers.
The company has enjoyed continuous growth since it's beginnings in 1999 and, as one of the industry's longest standing kiosk suppliers, the solutions that Cammax supply have evolved immeasurably. With the growing number of smartphone and Internet access, both at home and work, people have come to expect more from a kiosk system; this is reflected in the kiosk technology that Cammax have deployed at a number of police stations across London.
On his involvement with the London Metropolitan Police Service, Julian told Kiosk Europe Magazine…
"The kiosk system is really designed as an initial contact solution for the police, and the idea behind the project started in the lengthy run-up to the London Olympics of 2012, when it became clear there would be many different nationalities visiting London".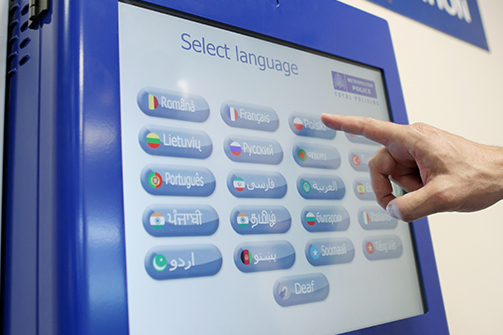 With over 300 languages spoken in London, Cammax's kiosk system can support the top 20 languages in detail and 100 languages in total. Julian added, "the use of a multi-lingual kiosk makes life a lot easier and less stressful for all concerned – including the visitor – and this is its great strength."
Read the full article from Kiosk Europe Magazine or our Case Study to find out more about Cammax's ongoing support with the Metropolitan Police.