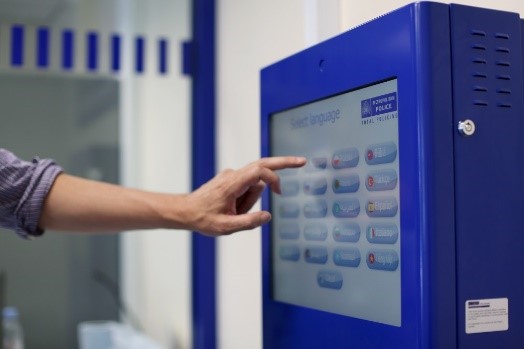 E top up kiosks are quickly becoming an essential feature within mobile phone shops and transport stations often have a top up feature on their ticketing kiosks for anyone with travel cards. Installing an E-top up kiosk can bring a wide range of benefits to your business especially if you find yourself continuously stuck or strained when it comes to peak times. Reducing waiting times, giving customers independence and offering them an E-top up kiosk will drive your sales and create a rise in loyalty from customers.
Features and Benefits
E top up kiosks have made direct top-ups as easy as they can be, accepting all forms of payments such as cash, credit/debit cards, personal cheques etc. Whether you are topping up mobile phone credit, transport cards, gift cards or even bill payments the kiosks allow you to do all of those things with no payment hassle. Being able to accept all types of payment creates a simple, user friendly interface that is accessible to all customers.
Mobile phone companies and networks deal with a large number of customers who pre-pay and need to top up their airtime. The E top up kiosks are a huge feature for these companies, it gives their staff the chance to focus on driving new sales and spend less time on providing a service that customers can quickly do themselves.
The simplicity of an E-top up kiosk is vital, having the software that can be used by everyone is important for building customer loyalty. The multilingual feature means that anyone can gain access to the facility which not only builds that loyalty but can allow staff to offer their help elsewhere.
Transport now runs 24 hours a day and in the early hours of the morning staffing in transport stations may be limited. The E-top up kiosks will run 24/7, meaning if a member of staff is not available you are still able to top up any travel cards without adding delays to a journey.