Touchscreen technology has become part and parcel of everyday life thanks to the evolution of the smartphone and the penetration of tablet devices. Now with so many industries and public services utilising self-service solutions to help ease the strain at bus and train stations, car rental locations and busy airports around the country we've decided to explore just how many useful applications touchscreen tech offers travellers.
TICKET MACHINES
Ticket machines are now omnipresent and it's hard to imagine a time now when we didn't rely on these handy dispensers. In most instances ticket machines incorporate a card dispenser complete with payment hardware and they also require a clear user interface and design to be successful. If passengers can't work out what buttons to use to buy the correct ticket, they will become frustrated, which can escalate quickly if they are in a rush. A touchscreen control panel means instructions and controls are extremely clear for the user.
SELF-SERVICE KIOSKS
Travellers across the country looking to buy their tickets at transport hubs can now use self-service kiosks instead of having to queue up at a window. Self-service kiosks can be similar to ticketing machines in some regards but they have more widespread applications such as airport check-in or security fast tract. As with the ticketing units, it's important that the controls are easy to use for busy passengers and the touchscreen is an ideal interface to employ in this instance because they can be custom-designed to promote branding and attract customers. Moreover, the benefits to business, in terms of reduced labour costs, can be significant.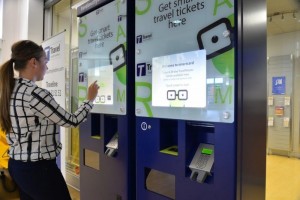 DIGITAL SIGNAGE
Billboards and signs around waiting areas and on the routes through airports and train stations have emerged over the past few years thanks to digital and interactive signage. Now instead of simply giving customer's useful information, they can quickly skim these signs in an instant as they pass by, consuming much more in-depth detail. Touchscreens open up the potential for these signs to give passengers more information about products, services, local maps and other details about their location or the services nearby.
EPOS
Travellers aren't the only ones who can benefit from touchscreen systems: EPOS hardware and touch PC systems can provide much needed assistance at busy transport hubs. Transactions are efficient with touchscreen EPOS units, saving time and moving along queues. Employees at information desks and in non-consumer-facing roles can use all-in-one PCs and tablets to assist them in their jobs as they refer to and input information. This type of function is epitomised with the iPads now used in the cockpits of many popular airlines instead of paperwork.
PERSONAL ENTERTAINMENT
So many airplane passengers now carry with them a mobile or tablet device in order to watch their favourite movies or shows during their journey. But for those who really want to travel light they can typically rely on personal entertainment systems built into the aircraft seating, particularly with airlines specialising in long-haul flights. Unfortunately, on older systems this means having to rely on a well-used remote inconveniently placed in the arm of the seat. Thankfully a touchscreen solution can solve the need for extra accessories and offer the flyer a much easier way to find what they're looking for.