What is it?
Medi+Vend allow registered users the opportunity to receive sexual health advice and also resources at the touch of a screen.
The interactive kiosk is designed by clinicians to offer easy access to health care advice and provisions. The touch screen panel and vending machine is capable of dispensing all sorts of health care products, including condoms, chlamydia tests and pregnancy tests.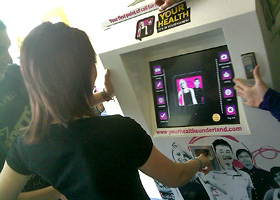 It's also a go to point for information regarding health advice, promotion and offers users the chance to access a signpost of the services in their immediate area.
Why is it Useful
Sexual health and confidentiality are two things that tend to go hand in hand. People don't often feel comfortable talking about sexual issues and this can lead to anything from awkwardness and embarrassment and often a failure to get tested.
Kiosks allow people the opportunity to confidentially access information, STI tests, pregnancy tests and condoms without the need to discuss the problem with anyone.  Users can self-assess the issue with the tests and information provided and then makes an informed decision on whether they wish to follow up the matter with a clinician.
The fact the Medi+Vend is readily available, easy to use and provides the necessary information and dispenses tests and condoms makes it an easy and intimate go-to source for something people tend to feel awkward about.
Where is it Available
The Medi+Vend have been introduced in a number of locations across the UK. Currently, the sexual health kiosk can be found at:
Bath and North East Somerset PCT
Birmingham East and North PCT
Bishop Auckland College
East Durham College
Darlington College
Lincolnshire PCT
Oxfordshire County Council
Queen Elizabeth Sixth Form College
Swindon Borough Council
Yeovil College
Stoke PCT: Hanley Clinic
It's a fast, easy to use and confidential system that has so far benefitted thousands.
We keep our Medi-Vend location list up-to-date as we install in new areas.
Need more information? Contact Us