Touchscreen devices such as mobile phones, EPOS and self-checkouts in supermarkets are now the norm with the younger generation but all the evidence is suggesting that they are being adopted by older people too due to their simplicity of use.
Traditionally, surveys were carried out using a mostly paper-based process with customers prompted to fill in lengthy consultation documents which often led to errors and consumed vast amounts of time. The paper forms would then have to be uploaded to a computer so data analysis can take place.
Nowadays however, online surveys, and in particular touchscreen surveys, provide many advantages over the paper-based approach.
By making use of a network, whether it is broadband or mobile internet, survey screens can beam recorded information straight to the central hub as soon as the data is obtained – far more convenient for the collector than waiting for human staff to collate responses.
Essentially; using technology to conduct surveys is more efficient and attracts a far wider audience in the current market. Touchscreen surveys can also easily be made available in multiple languages and rich media including images, video and audio can make the experience more enjoyable.
So, with that in mind we explore how businesses and trainers are using this technology for a number of applications: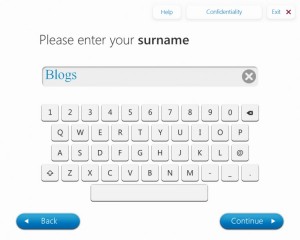 Staff Surveys
One of the toughest things to do in business is collect accurate, honest staff feedback. Far too often business owners ask their staff for feedback and see obvious trends that implies discussion during the data collection process. The solution? Make the survey anonymous and bias free with touchscreen technology.
The staff don't have to speak to a colleague or a third party and it brings in much more varied and accurate results – it's a no brainer.
Customer Feedback
Akin to the staff survey, customers can tell white lies if they are approached by a member of staff to complete a feedback form. They will no doubt rate the service very highly despite not being altogether satisfied simply to be polite. This is not the feedback a business needs – if the customers tell you everything is okay when it most certainly is not; you can expect a lot less people coming through your doors.
Take TripAdvisor as an example; people are so blunt and honest on the world's finest travel advice site because they can fill it in virtually anonymously with no staff hassle or guilt incurred – wouldn't genuine feedback be nice just for once?
Education
Not all who learn are educated. For example, assessing teachers who educate very young children can be hellishly difficult as they are unlikely to respond to your standard clipboard and pen approach. Even if they do, you're more likely to encounter positive drawings than appreciative adjectives…
By using touchscreen surveys based on symbols; even the very youngest learners can provide their feedback!
Training Feedback
Much the same as education – not all who learn are educated. Experiences from trainers confirms without a shadow a doubt that feedback is the hardest thing to obtain since gold was made available in dust form.
Trainees generally rate you very highly when you're in the room and never give any constructive criticism that is ESSENTIAL when developing materials to work from – give them a screen; ask them how well they feel they understand the topic and hey presto – we have success!