In what might be viewed as exciting news for rail passengers who have long vied for more flexible, affordable and frictionless travel, the UK government has announced the biggest reform to the railway network in three decades with the creation of a new centralised body- Great British Railways (GBR).
The highly anticipated move, which marks the end of the much- maligned franchise system, will see the new body responsible for running and planning the network, owning the infrastructure and collecting most fare revenue.
Franchise agreements are set to be replaced with 'Passenger Service Contracts' and operators will be expected to increase rail patronage, which has fallen sharply in the wake of the pandemic, by offering more digitally-focused, convenient and flexible fares.
In a first step towards offering more responsive and affordable fairs, from next month passengers who commute two or three days a week will be able to purchase flexible season tickets. However, as the UK rail network embarks on this grand new plan it is essential that the technology that underpins this new approach to ticketing is robust and sophisticated enough to satisfy increased passenger expectations.
What is SMART Ticketing?
Tired and outdated ticketing systems have become a major bugbear for passengers, particularly as sophisticated technology, including contactless payments, have pervaded almost all aspects of day-to-day life. It is therefore essential that GBR and rail operators place SMART ticketing solutions at the very heart of the network shake-up.
SMART tickets are designed to either store electronic travel tickets on a microchip, which is embedded onto smartcards or into smart devices or alternatively provided as E-Tickets on normal paper in the form of a barcode. SMART tickets are available in various forms and can be either dispensed by machines or purchased online through smartphone apps or websites, eliminating the need for traditional expensive orange CCST Tickets and greatly improving the speed in which passengers can pay and board public transport.
Cammax SMART Ticketing Solutions & Our Rail TVM
As long-term proponents of SMART ticketing, and market leaders in the design, development and supply of payment and SMART ticketing solutions, Cammax have worked closely with a wide range of different customers, partners, and Passenger Transport Executives in order to develop cutting-edge SMART Ticket Vending Machines (TVMs) that enable fast, flexible and convenient ticket purchasing.
Cammax TVMs are intelligent ticketing systems which provide passengers with real time information. In line with GBR's ambition to offer passengers access to more affordable travel, our SMART TVMs are designed to offer the cheapest ticket for the journey the customer has selected, and the TVMs offer tickets for the day of travel and for future trips.
In 2019, Cammax teamed up with SilverRail and East Midlands Railway (EMR) in a bold and progressive move to revolutionise rail travel and ticket purchasing in the East Midlands region. The idea was to give passengers the features they have come to expect from a ticket purchasing website but at a station. With SilverRail's existing TIS (Ticket Issuing System) solution and Cammax's previous work with Smart Ticketing kiosks a new TVM concept was created.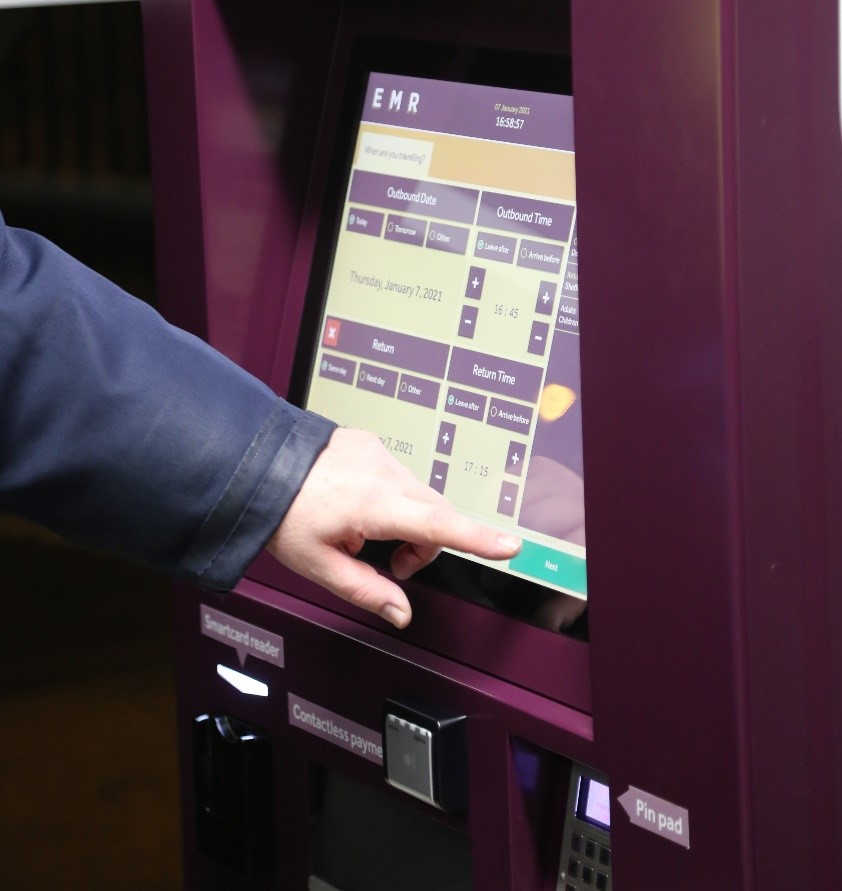 The SMART Rail TVM, which is the UK's first intelligent Rail TVM, uses the same TIS (SilverCore) and UK Journey Planner that SilverRail uses for supporting customers through web and App rail retailing stores. With the ability to buy tickets up to 90 days out and take advantage of on-the-day advanced ticket pricing, passengers will now have more access to cheaper fares.
The SMART Rail TVM issues both advance and walk-up tickets directly to a customer's SMART card, which significantly improves the overall passenger experience. Additionally, there is an optional SMART card collection device on the side of the kiosk machine to collect pre-purchased SMART products.
Following the launch of the first SMART Rail TVMs at Derby and Uttoxeter stations, passenger reaction to the new machines has been hugely positive and work to improve functionality in light of the government's announcement is ongoing. The next phase of the EMR Rail TVM rollout will support the direct purchase of ITSO smartcard tickets and offer passengers the ability to re-print lost rail E-Tickets.
In a bid to enable Mobility as a service (Maas) customer information screens and integration into local Bus Smart Ticketing schemes will also be facilitated.
Although the recent announcement regarding the formation of the GBR may be seen as welcome news, fundamental changes need to be implemented quickly if patronage is to increase in line with expectations.  Rail passengers have long become tired and disillusioned with the UK's governance of the rail network which has led to widespread confusion and lack of ticket affordability, flexibility, and ease- of- purchase.
Modern-day rail passengers demand high flexibility, convenience, immediacy, access to cheaper fares and elimination of queues for ticket purchasing. In short, customers are vying for frictionless travel and that can only truly be achieved if operators and all stakeholders embrace the technology that facilitates and enables it.
For more information about our work with SilverRail and EMR please follow this link. If you have any questions or queries about SMART ticketing and Cammax SMART ticketing solutions, please visit this page and contact a member of the team today.