We live in an age of self-service, where customers are increasingly empowered to take control of their individual needs from purchasing tickets all the way through to following directions. Across the UK, more and more companies and public service providers are turning to self-service solutions including many of the nation's biggest airports.
From an operational perspective, the use self-service kiosks helps to reduce wait times and contributes to a more convenient and efficient customer experience. In fact, some major airports have even seen wait times drop 30% from 27 minutes to less than 20 by utilizing kiosk machines so the benefits of this approach are obvious.
There are numerous ways to leverage self-service in airports, and, for the benefit of both operators and customers, here are some of the best:
Fast- Track Payment
Cammax have long developed cutting-edge payment kiosks to help solve a range of problems, including pioneering a range of fast-track payment machines developed specifically to help speed up the check-in process and reduce wait times at busy airports.
The Airport Security Fast Track Payment Kiosk uses bespoke software in our Fast Track Payment Kiosks. With its slimline ergonomic design and small footprint, this kiosk is ideal for busy and congested areas such as airports. The kiosks can be fitted with chip and pin, contactless, cash and smart card readers to accept most methods of payment, and they are able to print both receipts and point of entry tickets.
The Airport Security Fast Track Kiosks also help to reduce customer queue times by providing an option to purchase fast track tickets on the day of travel; this provides an additional revenue stream for airports, which can be reinvested into the facilities and services provided.
Airports like Liverpool's John Lennon have been reaping the benefits of deploying Cammax fast-tracking payment machines since 2016 and it's likely more major airports will soon follow suit.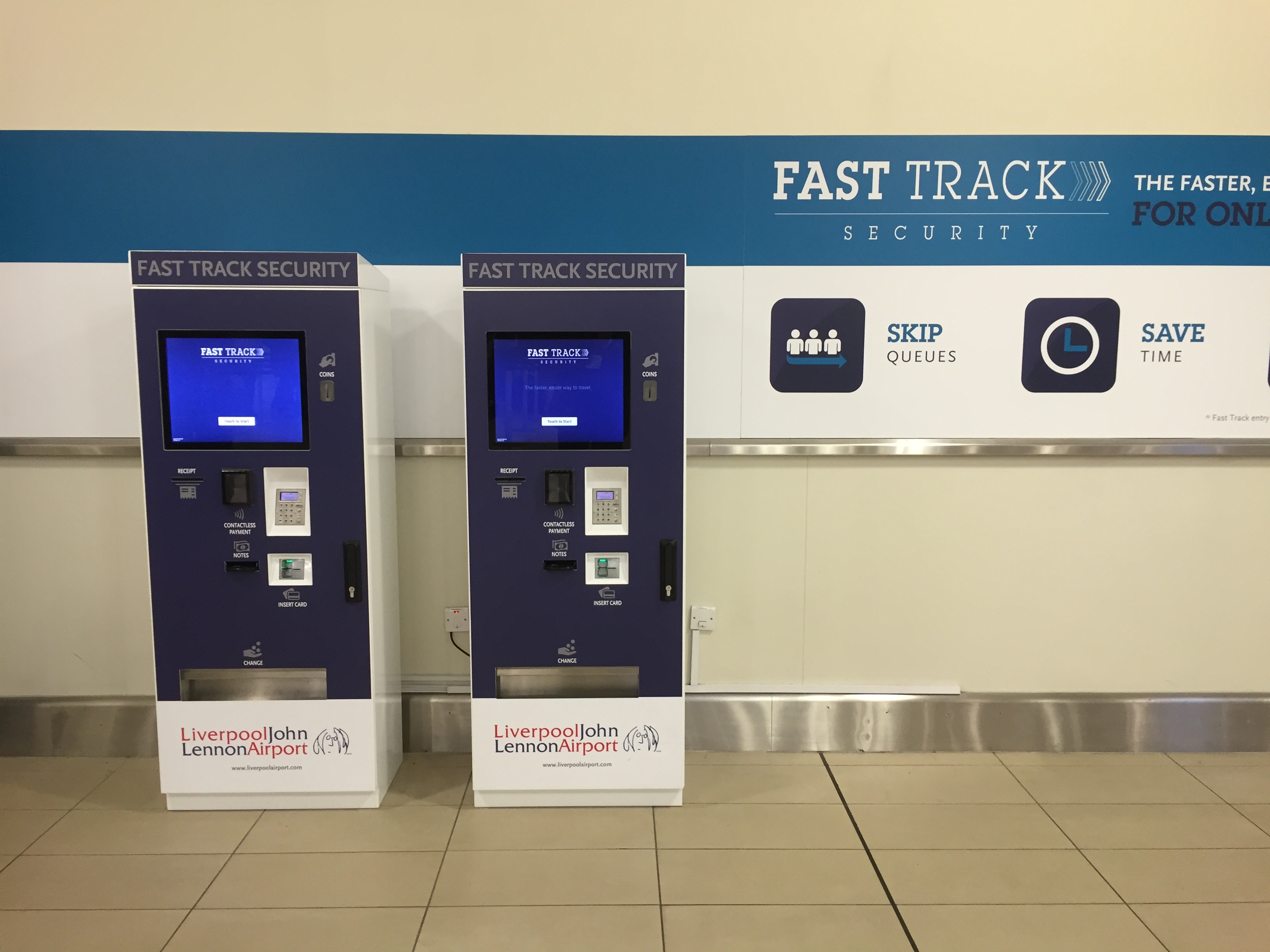 Navigation
Given the size of major airports and how busy they become during peak travel periods, it can be difficult for customers to successfully make their way from A to B. Self-service kiosks can therefore play the crucial role of helping customers to navigate their way around, creating a more pleasant travelling experience.
The end result is that more customers board their flights on-time, as they can easily locate their departure gate and access information about flight times with a few flicks of the finger.
Deploying navigation machines also minimises confusion and chaos at airports, helping operators to work more efficiently and deliver a far greater, in-person service.
Provide local food and entertainment information
When you land in a place you've never visited before, you'll often find yourself scrabbling for information in an attempt to find your hotel or somewhere to eat (particularly if you've had a long flight and a disappointing, in-flight meal!)
Self-service kiosks can play a key role here because they provide easy-to-access and targeted information on the best local restaurants, hotels and entertainment hot-spots. So, whether you need to find the hotel you booked at the last minute or identify a vegan eatery where you can grab a quick bite, these accessible resources can help you.
Offer an interactive lost and found service
Have you ever lost a piece of luggage or some valuables in an airport terminal? This can be one of the most stressful and frustrating experiences ever and has the ability to entirely ruin your holiday.
Today's advanced kiosk machines can help with this, however, because they can be tailored to incorporate sophisticated lost and found software options that make the arduous process of locating lost property easier than ever before.
This enables airports to offer a customised (and more importantly interactive) lost and found service, which customer can access in real-time. It's even possible to offer travellers access to a VOIP phone handset, allowing them to place a free call to the lost and found hotline if one is in place.