Desktop kiosks, also known as counter-top kiosks, are lightweight and portable kiosks which are mounted to a desk or surface. They are smaller than standard kiosks, but still have the same modernised functions and with a smaller footprint. Desktop kiosks have many benefits, which are often overlooked due to the prevalence of standard sized kiosks. But you should consider the following advantages before you decide which kiosk is right for your business:
Easy to Use
With the same technology as the standard sized kiosks, desktop kiosks incorporate customised software and have the option of an interactive element by using touchscreen. There are various components
that can be customised like the colour, height, and what it's mounted to.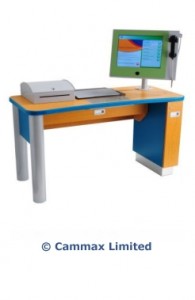 Cheaper than Alternative Kiosks
Desktop kiosks cost much less to make than the standard freestanding models due to the fact that they require less materials for their smaller size. It also decreases the shipping costs as the products weigh less, therefore reducing the overall costs of the product- meaning saving are passed on to you, the customer!

Convenient
The small size creates a much more convenient product that can fit into 25% to 50% of the footprint of a free standing kiosk, and can be easily moved if there are any changes in the layout of the room or area. Desktop kiosks take up much less space, and they can fit onto existing feature displays like countertops, desks, displays or shelving.
Versatile
They can be moved from place to place with little fuss, unlike a standard freestanding kiosk. Another benefit often overlooked is that they boast the opportunity to have seats in front of them as they're placed on a desk or counter. This is an important factor to consider when buying kiosks, because if operators have to enter a lot of details into the machine, or use it for a long period of time, they may prefer to have the option of a seat.