Usually, when you think about airports you can be forgiven for conjuring up images of endless queues and horrendous delays as you're sat in waiting areas for what seems like an eternity before suffering the dreaded airport security checks. Thankfully, there have been great developments in kiosk technology in recent years that solve many of these common problems and make trips to the airport far less stressful.
One example of this kiosk technology is the self -service bag check in system. This industry is expected to reach a value of $9.26 billion by 2020 – growth of around 7.72% per year. There are many other examples of kiosks being used in airports to great success and we investigated some of these instances.
Check In & Payment
Kiosks are quickly replacing front facing customer service staff in many airports; at India's Chennai airport, kiosks are set to replace the entirety of the front- facing work force to handle the entire process from checking in to printing a boarding pass and luggage tags – the kiosks even allow users to select their seat in many instances removing the risk of human error.
Virgin Australia have also introduced kiosks to replace customer service agents but, instead of completely removing the human element, the kiosks can be converted into traditional check in desks for users who need help from an employee. The overall concept from Virgin is to maximise productivity and efficiency but retain a human element for those who need it – the best of both worlds.
Even here in the UK Liverpool's John Lennon is the latest airport to benefit from the deployment of our Airport Security Fast Track Payment Kiosks, following a number of UK airports who have installed these kiosks in an attempt to encourage passengers to upgrade to fast track on the day of their departure.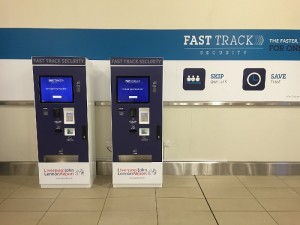 Providing Information
Information kiosks are nothing new; in fact they've been around in major cities globally for the better part of a decade, but the technology has changed greatly. A source of irritation for many travellers is the lack of up- to- date information provided by the airlines when flights are delayed or emergencies occur – kiosks are now present in many airports to provide up- to- date information regarding delays, disseminate emergencies and also carry out more familiar functions such as providing directions and flight times.
Key Services and Life Saving
Waiting for a boarding call can be tedious and offers travellers the opportunity to worry in many instances – have they packed holiday essentials? Do they have enough currency exchanged? Yet again, the kiosks come to the rescue as many departure lounges now have kiosks offering travel essentials such as sun lotion, travel toothpaste etc and other situation- dependent essentials such as nappies and swimming clothes.
It is unwise to wait until arriving in departures before exchanging currency but should you have forgotten, many kiosks also boast this functionality. Travellers may also look to exchange currency upon returning to their home country to save waiting in queues at the Bureau de Change – it's all about efficiency.
The kiosks can also help in emergency situations by offering information on CPR to travellers – these are more advanced than other kiosks as they feature in depth video training and offer a mannequin for practicing. These kiosks were developed by the American Heart Association and are becoming increasingly common in airports around the world with a clear message that emergencies can occur at any time and first aiders may not be around.
Airports and Kiosks – the Future?
It's safe to say that airports will soon see a great influx of kiosks to carry out progressively more and more tasks. Some may claim the human element will be lost and that not everyone will adapt to the technological revolution but if the Virgin model is followed; customer service agents will still be available to assist if the kiosk proves too much for a user.
Without doubt there will be a great shift in the way airports function over the next few years to improve efficiency and the overall experience thanks to the great advances made in the kiosk industry.