One of the most important tools in the modern marketing mix, social media platforms have captured the imagination of business all over the developed world with Forbes recently revealing that up to 81% of companies utilize the medium.
Sharing great content and effective communication are key when it comes to executing a successful social media campaign but how can kiosks play their part in helping your business achieve its social media objectives?
Photo Kiosks
The traditional photo booth looks to have had its day owing to the introduction of sophisticated photo kiosks that offer lots of benefits. Utilised at events, functions and popular venues; photo kiosks are deployed to encourage social interaction on the user's part but also to enable the kiosk owner to advertise in tandem.
Kiosks offer a physical point of interest for group photos and permit users to share the photo directly from the kiosk itself which encourages engagement with the brand. Mobile phones may be capable of taking and sharing photos but the curiosity element of the kiosk develops into regular usage and sharing.
Sharing images taken via the kiosk will generally see the user's image distributed by a social media page linked to the kiosk owner's business – tagging, liking, commenting and reacting all spread the brand, and its message, to more and more people; increasing the business' reach.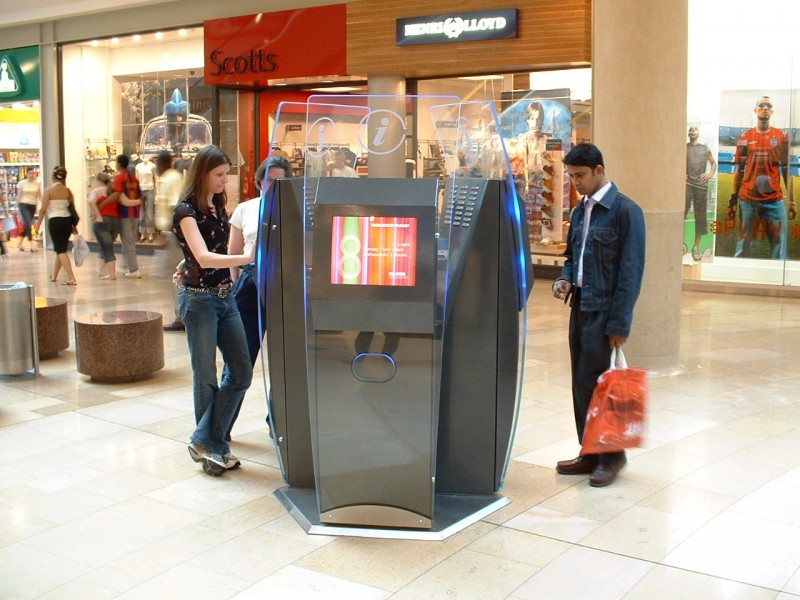 Retail Kiosks
Positioning kiosks and digital signage in busy retail environments enables your social media message to reach a huge audience and it could give your company an edge in the fierce retail sector.
Retail kiosks that incorporate Twitter feeds or Facebook posts are proven to increase engagement and customers respond well to the feeling of familiarity they promote. Communicating via social is also viewed as a less formal/commercial way of delivering your message.
As well as showing your own social content, you can also offer the audience the chance to share their own thoughts, comments and photos in a public space – all with your brand image attached.
Wayfinding Kiosks
Within retail environments social media interactivity is also being incorporated into wayfinding kiosks to drive traffic and provide a service. Owing to the integration of Smartphones, shoppers are able to gain access to shopping centre social media pages for example and receive directions that are emailed from the kiosk.
Skype Stations
If you find yourself without Wi-Fi or strong enough signal to make a Skype call; the Skype Station is designed to provide access to the service you need. Initially tested in busy airports, those waiting for flights responded well to the offer of Skype via a kiosk – all it takes is the software itself, a webcam, a microphone and speakers.