In the face of continuous budget cuts and other challenges, a growing number of public sector organisations are now turning towards kiosk solutions in a bid to reduce queues, collect missed revenue and improve operational efficiency.
In this post we will explore the many applications of self-service kiosks in public sector settings before assessing the benefits of deploying these machines to both organisations and the wider public.
Applications
Kiosks are found everywhere now in a variety of environments, including hospitals, GP practices and council buildings. From payment machines to product dispensing solutions some of the most popular applications provided include:
Ticketing– Venues like hospitals are deploying self-service ticketing kiosks to help manage parking facilities and streamline services like blood tests
Self-check in– NHS practises are now widely utilizing touch-screen kiosks that prompt visitors to sign in for their appointment- removing the burden from staff
Payment- Councils are turning to council payment kiosks in order to offer the public a more efficient way to pay of taxes, fines and school meals
Translation– Organisations like the police have been utilizing multi-translation kiosks to help overcome language barriers and promote equality
Customizable
Owing to technological advancements, kiosks are now becoming SMARTer and are able to handle more and more complex demands.
At Cammax, all of our kiosks are designed to provide the best possible user experience: a compact footprint and high level of customization ensure optimum flexibility in terms of deployment and usage.
In order to meet growing customer and business expectations, there are a wide range of devices and peripherals that can be integrated into kiosk machines to help public sector organisations complete a variety of tasks.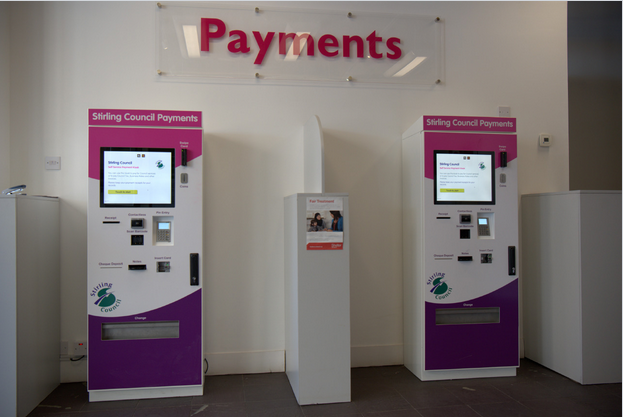 These include:
a contact card reader
a contactless card reader
a fingerprint reader
a web cam
a numeric pad
a payment terminal (contact or NFC)
a receipt printer
Benefits
Self-service kiosks can represent the complementary link to an integrated approach for public sector administration and strategy, here are the leading benefits:
Collect missed revenue– Kiosks are operational 24/7 meaning that councils and hospitals can collect payments around the clock. In A&E departments kiosks are being successfully deployed to collect prescription payments out-of-hours and in council buildings they are being utilized to collect fines and tax payments
Reduced staff costs- Self-service kiosks not only reduced the burden on staff but they can also help control spiralling staff costs. A well designed and integrated kiosk software system eliminates the need for certain admin tasks
Improved customer experience– research suggests that deploying kiosks can significantly improve customer satisfaction by reducing queues and wait times
Security– kiosks offer secure payments options such as 'cashless' and this can reduce the level of anti-social behaviour in many environments
For more information about how kiosks can help your public sector organisation, please get in touch to discuss your requirements.