Since 1981, loyalty schemes have been created by businesses to encourage customers to use their services again and again – the very first loyalty scheme was created by American Airlines and their frequent flyer program now boasts over 50 million members. Over the last 35 years, loyalty schemes have been adopted by businesses in virtually every industry sector from supermarkets and restaurants to casinos and theatres.
Now, businesses are using kiosks to facilitate their customer loyalty programs – the kiosks allow users not only to sign up to the schemes but they also offer a great deal of added functionality designed to turn single visit customers into repeat business.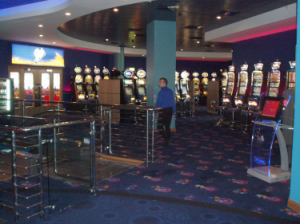 Kiosks for Every Industry
The gaming industry has made use of customer loyalty schemes for years and the kiosks now offer far more than ever before. In casinos, for example, kiosks allow customers to sign up and then monitor their account progress as they accrue loyalty points, the status of their account is upgraded and bonuses are awarded based on loyalty. Additionally, kiosks can be programmed to award on the spot bonuses including cash vouchers, meal tokens and even event tickets.
Recently, loyalty schemes have entered new industries such as museums and galleries. The kiosks offer users the chance to check their account along with building a peer network of similar minded users – they can also opt in to regular E-mail updates on forthcoming exhibits and events.
Most recently, restaurants have made use of kiosks to support their loyalty programs and generate repeat custom. Not only do restaurant kiosks offer the facility to sign up and monitor an account, they can also be used to place orders without the need to wait for a staff member. Certain orders will garner more loyalty points in some restaurants making promotions even easier to implement for the business.
Customising Kiosks to Business
Kiosks are a great addition to any industry sector as they can be programmed to carry out numerous functions in virtually any setting. Regardless of the kiosk's main function, they can be programmed to carry out a number of sub-functions alongside their main directive making them incredibly versatile and useful to any business.
Customer loyalty kiosks in particular are simple to operate and easy to maintain; they can be installed and then forgotten about to an extent. The kiosks save a lot of time and money in the long run as they can carry out tasks instead of staff members who require training and costly wages.
Endless Possibility
There are so many functions available it can be hard to choose which will be best for your customer loyalty kiosk but here's a few of the most common:
Card Printing and Dispense
Account Management
ID Verification
Advertising
Custom Function
Receipt/Voucher Printing
Ordering
Payments
Wayfinding