Despite the best efforts of the customer service industry to promote intimate, personal service; the government have introduced National Indicator 14 which stipulates a target for local councils to avoid encouraging their constituents to interact with their local authorities and community figures – doesn't this sound negative?
Well, actually, limiting interaction with local authorities isn't a bad idea at all. Imagine the number of unnecessary interactions people have with the council, police, NHS etc…on a daily basis that delay responses to emergency and critical situations – there must be a way to prevent this?
Thankfully, the introduction of kiosk terminals has been proven to reduce the number of unnecessary interactions by simply answering questions with the required information. Picture this scenario – a person visits their local council office to simply enquire when their recycling will be collected. Now imagine fifty people attending the building in a single day whilst others are present to attend government mandated appointments they will inevitably become late for.
Enter the information screen. A kiosk that has been programmed to answer the more trivial questions will reduce queues and allow staff members to act on the most important cases without delay – and yet, there's more.
If the kiosk were to be treated as a staff member; it requires no training nor will it cause any issues when a difficult case presents itself. Problematic cases may need to be referred to a specific member of staff or a certain department – something a kiosk can handle in seconds but a task that a staff member may not be able to do in several minutes.
Equally, the kiosks have the potential to reduce printing costs by hundreds of thousands per year simply by displaying information that can be delivered to the enquirer digitally. The user can input their details to the machine and receive all the information they need via E-Mail rather than make use of the council's printers – the budget is safe once again.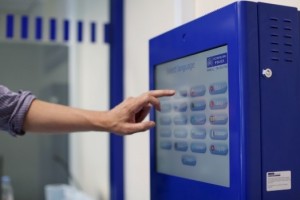 Council kiosks can be found in a vast number of locations thanks to National Indicator 14 including housing, family and social support departments along with emergency services buildings such as hospitals and police stations.
They are efficient and they make it far easier for disabled users to access the information they need thanks to their impressive interfaces. Kiosks can also be equipped with headphone sockets or hearing aid loops for the hard of hearing and braille printers for those who struggle with impaired vision – something human staff members cannot hope to match.
Additionally, through our experience working with the Met Police to deploy multi-lingual and translation kiosks we know first- hand the positive effects these kiosks have had both for the force and the general public.
Further, through our experience deploying council payment kiosks we've also found that they significantly improve the overall service provided by Councils whilst reducing transaction costs and improving customer service. Our council payment kiosks provide customers with the ability to pay for a wide range of services such as Council Tax, Fines, Licenses and School meals without having to queue to speak to staff.
In conclusion, National Indicator 14 may have seemed like a very negative option at first glance but the possibilities are truly endless. Information and self-service kiosks are the future of interaction with authorities and the future should be fully embraced.