Although online shopping has become increasingly prominent over the past few years, physical stores have remained popular due to the human interaction which customers receive, as well as the capacity for consumers to physically touch and try goods and products in store.
While footfall for shops remains high, transaction rate is often low as consumers take to stores to shop, but then purchase online.
One way to deal with this problem is to make your store digital. By bringing in technological advances, you merge the online and offline shopping experience. This is appealing to mobile and web users as it increases convenience and allows for different kinds of interactions and brand-consumer engagement.
There are several ways to bring technology to the physical world of retail:
Beacons
Beacon technology uses Bluetooth geolocation technology to send messages to shoppers via a downloaded app when the user is within certain proximity of a store. Customers often download a brand's app in order to receive offers and news, and then forget about it. Beacon technology helps to bring this app back into the limelight, and to encourage spontaneous purchases via the notification of offers and promotions as consumers walk by. This effect is accelerated if offers are time constrained, as customers fear missing out on deals.
Interactive kiosks
Interactive kiosks are a great way of bringing offline technology to store. Software can be customised to your requirements, meaning customers can use them to process payments, search stock and order online, among other options. Brands can use kiosks to capture customer data, for example by offering a discount in return for signing up to the newsletter.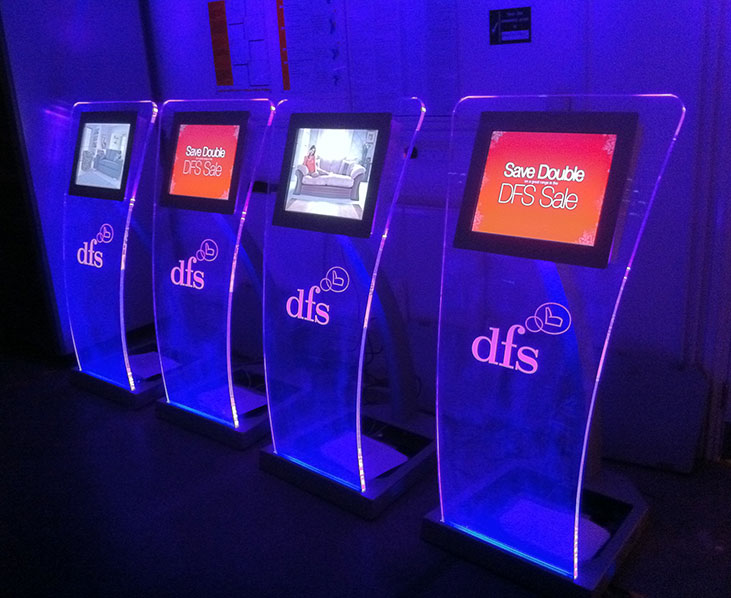 Tablet Kiosks
Tablet kiosks are a good alternative for smaller stores as they demand less physical space. Used in conjunction with mobile pay, tablets can be used to allow transactions throughout the store, eliminating queues. Read more about the pros and cons of tablet kiosks here.
Smart mirrors
Smart mirrors are relatively new technology and are currently pricey, however as it becomes more affordable it is definitely a viable option for fashion retailers. Implemented in dressing rooms, smart mirrors can analyse shopper's outfits and suggest matching outfits, take snap shots to allow customers to see themselves from all angles, and offer a catalogue of stock so that users can request clothing to be brought into the changing rooms. It can also be used to capture customer data, for example by requiring an email in order to be used.
As more physical retailers embrace digital technology, we can expect to see advances much faster. Stores which do not use technology will soon begin to be seen as outdated.
If you think having an interactive kiosk solution will help bring your store into the 21st century, get in touch and we can talk through your requirements and are custom software.