E-Triage is effectively a self- service check in system used by thousands of hotels and businesses around the world to save their staff from handling a task that a kiosk is perfectly capable of handling. Its widespread proliferation and usage has been so successful that it's now been adopted by the NHS on a much grander scale than anyone thought possible.
E-Triage is now used by the NHS to enable patients to check in for their appointments at its most basic level – most work using the patient's name and address to automatically inform physicians that the patient has arrived for their appointment; they usually inform the user of how long the wait is expected to be should any delays have been incurred during the day – genius.
The NHS have now taken this simple concept to the next level by using it in their walk- in centres and Accident and Emergency. Patients attending these urgent care centres are asked to complete a short questionnaire via the E-Triage kiosk to assess the severity of their condition and it creates a queue prioritizing the worst or most contagious cases.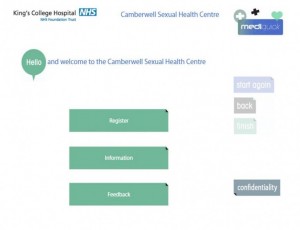 It is no great secret the NHS is facing a number of big financial and staffing problems but this small technological addition frees up nurses and staff so they can focus on more important tasks. Previously, nurses would be tasked with handling check in and incurred the wrath of many patients who believed their medical problem to be the most severe – this is no longer a problem as the kiosk handles everything itself.
There have been concerns over the health implications of unwell patients using a touchscreen to check in because of germs and viruses spreading from the screen alone but this has been remedied by the mandatory use of alcohol gel before and after touching the screen – it is there to protect the user and the staff alike.
Triage used to be a painful, paper based process that caused endless problems for the NHS but the computerised system has solved a lot of these issues. The system can be personalised to the hospital and even programmed to offer more functionality than just E-Triage; it can also be used to direct patients to support groups and organisations for their illness – a phone is usually provided to allow for easy contact.
The NHS is benefiting from the use of E-Triage kiosks so why can't your business improve through their usage? The applications are numerous; you could even cut your wage bill by employing E-Triage kiosks or free up secretarial staff to carry out other tasks.