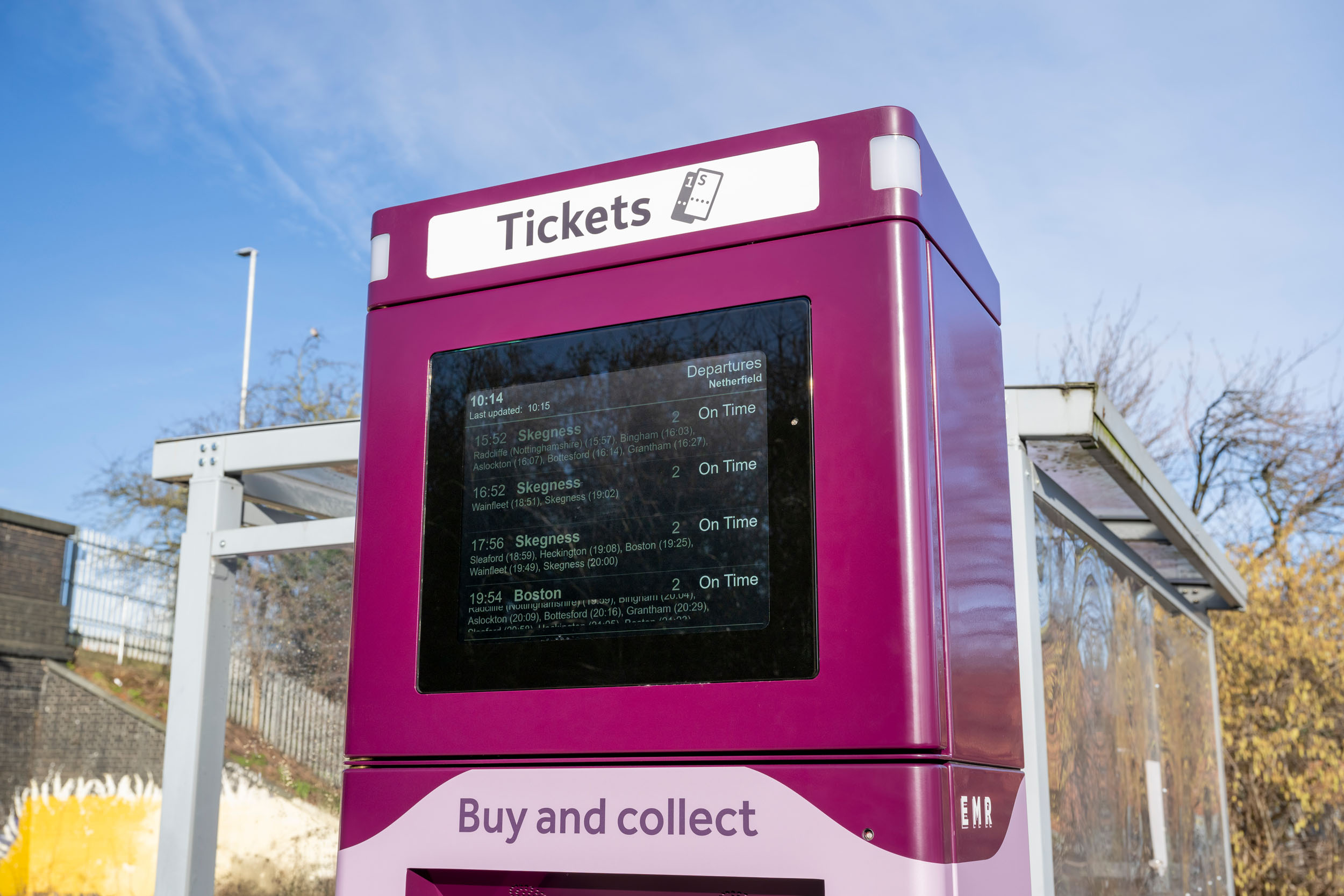 In a big boost for passengers at selected smaller train stations across the East Midlands, Cammax are excited to reveal that several of our Smart Rail Ticket Vending Machines (TVM's) have now been upgraded and will benefit from cutting edge Customer Information Screens (CIS).
The new Customer Information Screens, which grant passengers access to real-time-information about any rail delays and cancellations, have been affixed to existing TVM's at stations including Carlton and Radcliff. In total 13 smaller stations and kiosks have benefitted from the upgrade.
The move to upgrade selected TVM's comes as Cammax and East Midlands Railway (EMR) endeavour to improve the passenger experience and make rail travel as seamless and frictionless as possible. Accurate, real-time, and easy-to-understand customer information is critical to passengers' experience in stations and providing access to real-time arrival and departure information decreases the perceived and actual wait times for passengers.
The addition of new cutting-edge Customer Information Screens will also help keep passengers informed when customer service staff are unavailable, whilst enhancing the functionality of existing TVM's also negates the need for EMR to procure separate customer information hardware and software.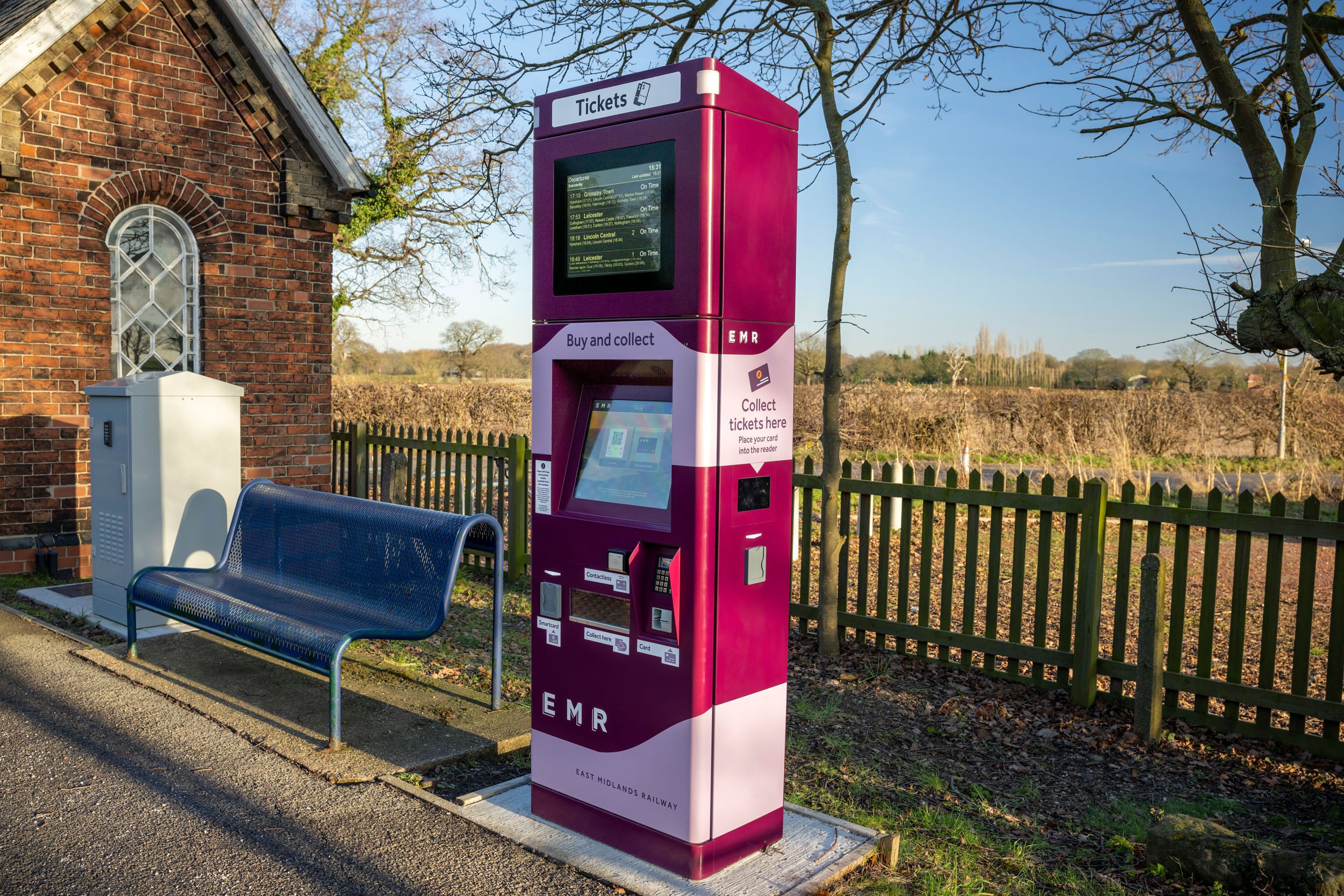 The UK's First Truly 'Smart' Rail Kiosk: How It All Started
Cammax' latest drive to enhance and upgrade several of our Smart Rail TVM's marks the latest milestone in what has been a long and successful partnership with EMR.
In 2019 Cammax, in partnership with SilverRail, first started conversations with the train operating company about replacing and upgrading their existing TVM estate.
Ticket Vending Machines in rail have hardly changed in nearly two decades and the idea was to create a bold new product that would transform EMR's existing TVM offering from being a basic pre-programmed ticketing machine into a dynamic shop window that the rail company can offer their full product range through, even down to last minute on-the-day advanced tickets.
EMR also wanted their new TVM's to be a lot clearer and fairer given that the existing machines prevented passengers from accessing cheaper tickets. Some rail customers were even selecting the wrong ticket, resulting in the walk-up market paying more.
Following months of testing and hard work, and after overcoming several challenges, the Cammax Smart Rail TVM, the UK's first truly 'Smart' rail ticketing kiosk, was developed and the first kiosks were deployed at Derby and Uttoxeter Station in 2021.
This was swiftly followed by 'phase 2' which saw a further 28 Smart Rail TVM's installed across EMR's regional network last year.
The Smart kiosks issue traditional walk-up fares to customers whilst offering a full range of national Railcard and local discounts. Advance purchase fares for those passengers who are not travelling immediately and are happy to travel with a little less flexibility are also available, whilst the TVM's Smart Ticketing functionality enables customers to purchase a ticket in advance and collect it from the machine.
The new Cammax Smart TVM's are also far more intuitive and user-friendly, making it easier for passengers to find the cheapest fares, with a touch screen, mobile pay and contactless card payments supported.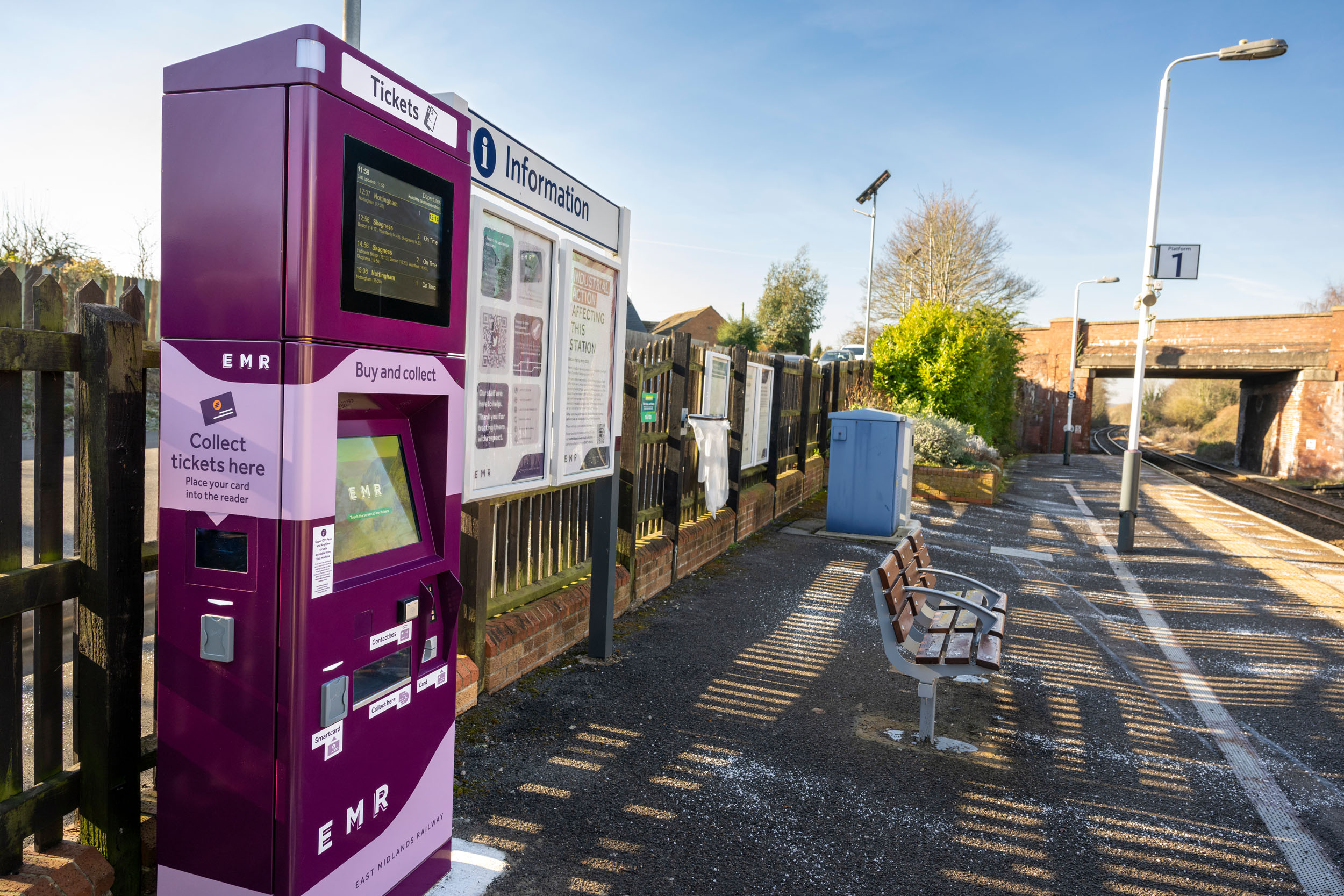 EMR Case Study Brochure & Updates
In the months and years ahead Cammax will continue to work with EMR to enhance all existing TVM's; in the future the Smart Rail TVM's will be upgraded to allow purchased tickets to be applied directly to a Smartcard and some Season Ticket products.
Stay tuned to our website and LinkedIn page for more information and images of our exciting CIS upgrade project. In the meantime, if you'd like to find out more about our pioneering work with EMR, please check out the handy case study brochure below.