Following the recent news that councils such as Aberdeenshire Council have recently revealed that they are currently dealing with a £1.8 million shortfall in rent arrears, there's a pertinent need for many businesses, particularly local government associations, to offer members of the public a variety of quick, simple and efficient ways to pay for a range of services.
Technology has streamlined almost every aspect of society over the past few years and new payment services have been instrumental in changes to population behaviour. Whilst access to cash payment options remains important to some sections of society, there has been an undoubted shift towards contactless payments and this change has been exacerbated by the recent Coronavirus pandemic which has heightened anxiety levels surrounding the use of cash.
To keep pace with emerging payment trends and changes in customer behaviour, local authority payment services have to evolve quickly to meet new customer expectations and maintain high levels of customer satisfaction; failing to do so could mean Councils run the risk of incurring more arrears and having to invest more in debt recovery enforcement, which is both expensive and does little for public relations.
The need to embrace new technologies
Across the country, Councils have been gradually implementing a range of measures to tackle this challenge; there have been moves to close expensive cash offices and efforts made to digitise payments to mirror changing societal trends.
However, by closing cash offices, residents are making physical payments at their local shop via systems such as PayPoint or at the Post Office; but both these methods are becoming outdated and they also pose further challenges, particularly now in light of the challenges raised by the global pandemic.
While moves by most Councils to offer ways for people to pay for council services remotely, via direct debit or through council websites, have been welcomed by some, this isn't the silver bullet that some leaders were hoping for.
There is such a variety of council services that many people pay for including rent, licenses and even school meals, so there must be a balance struck between offering a payment service that processes transactions seamlessly and efficiently, whilst at the same ensures that people who rely on cash to pay Council debts aren't penalised.
The answer lies in a system that straddles both the digital and physical worlds.
Cammax Council Payment Kiosk
Implementing a Cammax self-service kiosk machine can significantly improves the overall service provided by Councils whilst reducing transaction costs and improving customer service. The kiosks provide customers with the ability to pay for a wide range of services such as Council Tax, Fines, Licenses and School meals without having to queue to speak to staff.
The Council payment machines can be deployed at a range of convenient locations and can be fitted with peripherals including contactless card readers, chip & pin devices, as was as coin and note dispensers.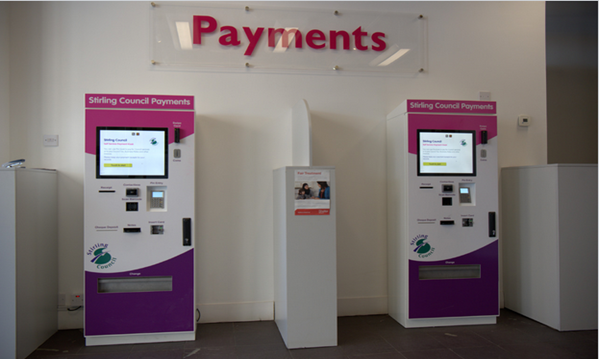 Benefits of Cammax Council payment kiosks
Cost Saving Solution
Cammax payment kiosks provide Local Authorities with a number of real cost savings in several ways. The kiosks have shown a reduction in Paypoint and Post Office payments immediately saves Council thousands in administration fees. Payments also credit third party accounts more quickly so customers have less issues with late payments.
Automating payments will also lead to a reduction in the staff input ratio, with a reduced FTE requirement. Staff could either be deployed elsewhere or functions cut completely, reducing costs further.
In fact, according to research from Cammax, Councils who have deployed payment machines have reported a 13% increase in overall cash transactions and an increase of up to 35% in transaction volumes, making the cost per transaction significantly lower.
Cammax Council payment kiosks can also be seamlessly integrated into any financial Council system such as Capita and Civica offering customers a unique service that responds to the growing self-service trend.
Enhanced Customer Satisfaction
The introduction of Cammax self-service payment kiosks at Council locations has resulted in significantly reduced queuing times, and, speeding up queues will be essential as society and businesses adapt to the Post-Covid 19 reality.
Where payment kiosks have been deployed, customers have seen queues reduced by up to 30% and with the Cammax easy to use software interface, the kiosks offer an enhanced user experience.
The kiosks have also aided in the reduction of customer complaints about average wait times and the ability to pay by cash. A payment kiosk with this facility provides a real added convenience to customers wishing to make payments in this way.
Efficient Use of Resources
Self-service Payment kiosks enable local authority staff to focus on dealing with more detailed and complex enquiries, without the added pressure of large queues forming. With less time spent on the more mundane tasks and more satisfied customers, staff morale is increased.
The introduction of self-serve payment kiosks with contactless or chip & pin peripherals also provide the added benefit of a reduction in the need for staff to manage cash, and Cammax payment machines can reduce security risks associated with cash handling, as well as the hygiene risks.
Ease of Use
Some customers worry that new technology or devices will be difficult to use or understand and this fear is often seen in customers who have not used touchscreen kiosks previously. Fortunately, Cammax council payment kiosks are incredibly easy to use; so much so that a massive 94% of those who have used them have stated that they are very simple to operate and that they would use them again in the future.
Easy-to-understand software used on Cammax machines has been purposefully created for universal use and simplified to ensure even those with limited experience or knowledge of self-service payment technology has the ability to make transactions swiftly and effortlessly.
As the UK emerges from lockdown, and the general public start to contend with the stark realities of the new normal, it's absolutely imperative that Local Government Authorities adapt to societal changes quicker than ever before by transforming the way they enable customers to pay for a range of council services.
Local councils will need to collect as much revenue as possible given the economic fallout from the Coronavirus crisis, and modern payment service technologies such as Council Payment kiosks can play a vital role in helping Council's reduce arrears.