Following months of testing and hard work by transport operators, local government and manufacturers, the launch date for metrobus' latest route has finally been revealed.
The new m1 service promises to better connect people living in south Bristol with the city centre, UWE and Cribbs Causeway.
It will officially launch on January 6th, 2019 and will be the third and longest route to accommodate public transport users from the area.
Running every 10 minutes Monday to Saturday and every 20 minutes on Sunday, the metrobus m1 route goes from Hengrove in south Bristol, through Bedminster to the city centre, on to UWE and Bradley Stoke and passes through Aztec West to finish at Cribbs Causeway.
The m1 links with the m2 and m3 metrobus services, which have already been launched earlier this year, and this latest move promises more efficient and reliable travel for passengers across the city.
Cammax iPoint SMART Ticketing machines
In a bid to reduce boarding times and make it easier for passengers to purchase tickets, Cammax was awarded the contract to supply state-of-the art iPoint SMART ticket vending machines that will be deployed at every Metrobus stop along the new routes.
The first iPoint ticketing machines were installed at Long Ashton Park and Ride facility earlier this year and were relentlessly tested to make sure they function in all weather conditions.
MetroBus promises to offer a faster bus service than regular buses because no one will be able to buy a ticket on board from the driver – passengers will only be able to show tickets on their phones, display pre-bought tickets or weekly passes, or tickets already on their own smartcards.
The Cammax iPoint machines will offer a range of services for bus passengers, whether they are getting on a Metrobus or not. People will be able to purchase tickets for the MetroBus as well as topping up their smart cards. The iPoints will also serve as an emergency point and relay real-time bus information.
The iPoints enable customers to buy tickets using contactless or chip & pin bank cards. Customers can also buy tickets from First's mTicket app, and registered Travelwest smartcard users can buy tickets from the Travelwest website and load them onto their smartcard at an iPoint before using it on the bus.
Tests have shown passengers simply tapping an electronic ticket board a bus up to five times faster than when people each buy a ticket from the driver.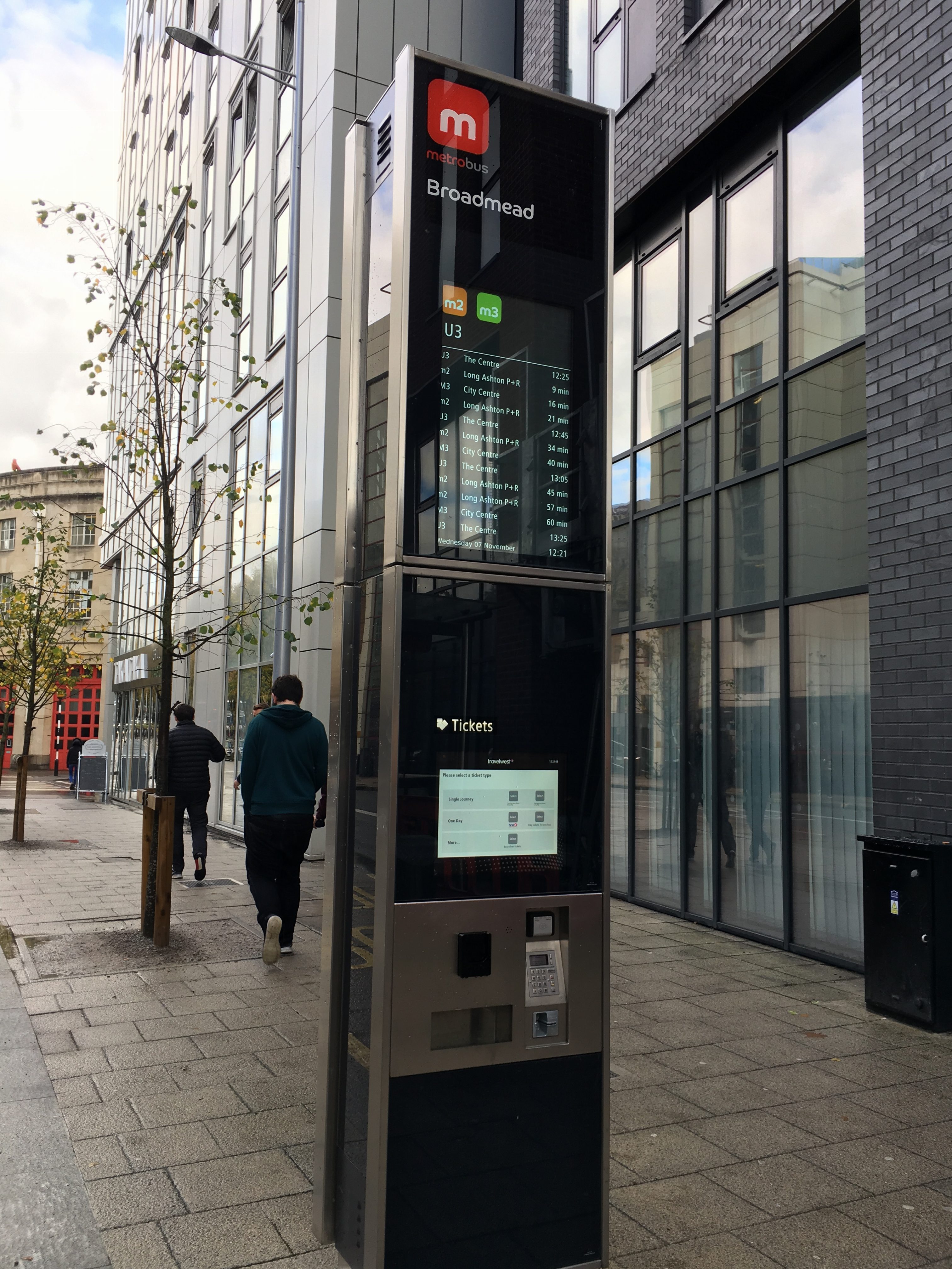 Tackling congestion and improving efficiency
Managing director of First Bus West of England, James Freeman said: "m3 and m2 (routes) have proved very popular and feedback is that they are getting people to where they need to be faster and more smoothly.
"Congestion in the city is reaching crisis levels and anything we can do to be able to cut through that congestion is good for our customers and our drivers.
"We believe this third and final route of the first phase of metrobus will be equally successful and contribute to a longer-term transport strategy that will alleviate the pressure facing our roads."
Cllr Colin Hunt, South Gloucestershire cabinet member for transport, added: "We are all looking forward to the start of the m1. It will connect south Bristol and the city centre with South Gloucestershire – visiting UWE and going all the way to Cribbs Causeway – providing a new choice for passengers".
Buy before you board
To celebrate the launch of the final phase, travel on the m1 metrobus route will be free for all passengers on 6th January. However, after Sunday 6th January 2018, the metrobus fares are simple and all tickets are buy before you board for faster journeys. Single trips are £2.00 and further ticket pricing information can be found at the metrobus Bristol website.
Passengers are reminded that you can purchase tickets securely through the First Bus mTicket smartphone app (with a debit or credit card, PayPal, Apple Pay, Google Pay or Pingit), from any iPoint on the metrobus routes or use the TravelWest smart card which can be topped up online. You can also buy tickets at iPoints using bank cards, or at Payzone/Paypoint stores and the Travel Shop at the Bus Station using cash, banknotes or bank cards.
UK Regions Embrace the benefits of SMART Ticketing
Cammax' work developing and deploying iPoint ticketing machines in Bristol is just the latest in a long line of SMART Ticketing initiatives and projects the company has worked on.
Over recent years the Castleford-based firm has worked closely with City of York Council's (CYC) to deploy ITSO Smart Outdoor Card Dispensing Kiosks for all six Park and Ride sites throughout York.
Cammax also teamed up with Nottingham City Council in an initial project that involved 82 ITSO Smart Outdoor Card Dispensing Kiosks and 6 Indoor (Ticket Vending Machines) TVMs, all of which were deployed in prime city centre locations.
In 2016, a further 66 were rolled-out close to transport stops as the partnership developed.
Since then, approximately 150 smart kiosks in total are now available to use across the city, making it the highest city centre penetration of smart TVMs in the UK.
Feedback from passengers has been extremely positive so far with reduced queues, speedier boarding times and cheaper/more flexible ticket purchasing options proving to be a huge hit with people who regularly use public transport in the region.