We probably take for granted just how much we use touch screen technology today. The chances are you're probably reading this article from one now. The world has been taken over by the proliferation of mobile devices and most of us would likely sway towards a tablet rather than a desktop computer to do any leisurely browsing.
The touchscreen monitor is a more comfortable and familiar view for consumers, and whether it's your staff or customers using them, they're enhancing experience in b2c businesses tenfold.
Evidence suggests touchscreens and touchscreen kiosks help reduce organisational costs, improve efficiency and heighten customer satisfaction so to keep up with growing demand, Cammax have pioneered a range of different touchscreen monitors, with ranging functions and sizes to help businesses serve their target markets.
In this guide we provide an overview of our most popular touchscreen monitors:
Our 15" EPoS Touchscreen
An ideal touchscreen monitor for smaller stores, our 15" EPoS offering ticks all the boxes and is perfect for retail outlets that can't keep stock in one store.
Its compact size makes it a perfect fit when integrated into a freestanding or wall mounted kiosk, allowing customers to complete tasks like browsing stock and making payments.
It's highly durable, perfect for interaction with the general public and has multiple ports to connect printers and till drawers if necessary. A great asset to have in many business environments and the perfect go-to to help speed up transactions.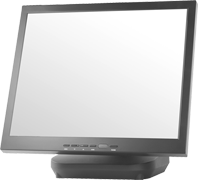 Our 17" EPoS Touchscreen
Designed specifically for the point of sale market, this 17″ touchscreen is popular among a variety of markets from retail to medical and is a sturdy piece of kit to suit any purpose.
A very versatile touchscreen, it's perfect as a self- service option in healthcare environments as well as being large enough to showcase any marketing material/adverts throughout a store. The five- wire touchscreen has multiple ports to connect printers and other peripherals, meaning customers would easily be able to pay for items/services and receive a printed receipt.
Alternatively, it's ideal as an EPoS for members of staff to process orders and sales for consumers, with enough ports for scanners and cash drawers. The opportunities with this product are vast and it's a great option that combines both value and impressive functionality.
Our 19" EPoS Touchscreen
Perhaps the most ideal touchscreen for consumer interaction, the large 19-inch screen is ideal for consumers of all generations. With highly customisable software, the EPoS system will allow you to create a system ideally suited to your consumers, making images, buttons and scroll systems as large and sensitive as you'd like.
Utilized across a number of industries by our customers, it's a hard-wearing piece of kit that won't suffer faults from over aggressive/regular usage. All-in-all it keeps productivity at a high and allows business to enhance consumer experience whether it be highlighting products, creating orders or allowing a swift and efficient payment service.
For more information about our touchscreen monitors you can view our full range here or get in touch to discuss your individual requirements.