Finding the right kiosk for your business can sometimes prove to be a difficult task so some business owners like to opt for renting a unit to trial the technology and other companies like to hire machines for specific events.
If you are considering renting a kiosk it's a good idea to firstly establish why you feel the kiosk is necessary. Allocating a specific task to the kiosk is vital but you must also determine whether the cost of renting for the required period is justified. Kiosks have been proven to attract around 63% of people's attention when compared to human staff carrying out the same tasks but is this enough to justify the outlay? Assessing these pros and cons is very important:
Pros:
Good for short-term use, i.e. a one-time event
Quicker delivery: kiosk is already made
No long-term maintenance
No software renewals / updates
Cons:
Less customizable to needs (no add-ons)
Less brand representation: kiosk colour and design
No extra software (basic package)
Once you have established whether or not renting a kiosk is a viable option; you should always carry out research to better understand what you receive in return for your rental fee. At Cammax, whether it's for a special marketing event or to trial a brand new self-serve proposition, we offer a range of kiosk solutions which are available for either short or long term rental including:
Cleartouch, Blade and Slimline kiosks always in stock
• Short or long term rental
• Delivery & installation service
• On site training if required
• Out of hours help line
• Removal
• On site maintenance
We can also load the kiosk with software such as our secure browser or survey software, or install your own application but some kiosk manufacturers will only offer limited services so be diligent in your research.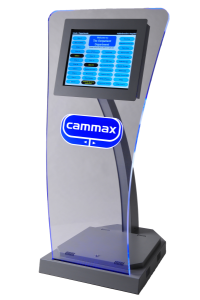 Once you have decided to rent a kiosk it's also worth asking questions like:
Which models do you have?
What type of software do you have?
What add-ons are available for renting?
Do you drop off and set up the kiosk?
Any additional fees?
How does the kiosk return process work?
In brief, renting a kiosk should be a short- term solution or a trial of sorts. If your business requires a myriad of custom features then renting may not be the best option so get in touch with a member of the team to discuss your requirements.