Touch screen kiosks are known to benefit a vast range of demographics and are deployed at several different locations, whether it be an airport, train station or hospital. The machines are also commonly utilized as ticketing points, information points, check-in system, and now, owing to advancements in technology, they can assist with a growing range of challenges.
It's no secret that the UK population is ageing and the demand for social care is increasing more and more each year. It's also no secret that older generations aren't as tech-friendly as their millennial opposites but DDA-compliant kiosks offer a simple solution.
Applications
Kiosks can help to solve challenges in a number of different ways and via a variety of different applications. By placing a touch screen kiosk in a care home for example, the unit can provide information for both staff, patients and visiting family members.
For family members looking for instant reassurance, touch screen technology enables information to be accessed 24 hours a day, seven days a week, helping to ease any apprehension.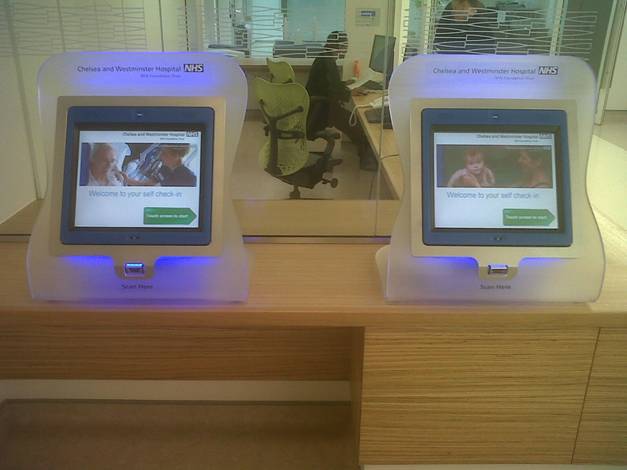 Check-in kiosk solutions can also help in another way by helping staff identify what room the resident is living in and regular visitors and family members can check themselves in and out easily without the need to fill out the same form every single time they visit.
Visitors can also check in via the kiosk and make appointments to look around, decreasing administrational duties for the business and freeing up staff to focus on patient care.
Not only can touch screen kiosks act as a check-in point and information hub but they can also act as a socialising portal. The kiosks can provide details on local groups, meetings or clubs helping residents to stay active and engaged.
Kiosks that are installed in local community buildings can also help the elderly by educating them on appropriate information such as benefits, pensions or health advice.
It was recently found that some 80% of low-income pensioners are completely unaware of their entitlement to pension credit, thus, they are not claiming what is lawfully theirs. Thousands of retired people in Britain are missing out on a total of £3billion due to not claiming the pension credit they are entitled to. However, a touch screen kiosk can help the elderly to learn more on big issues like these and how to take the right action to claim what they are entitled to.
Kiosks are also being utilized in hospitals to enable patients to purchase prescriptions, check in for appointments and to dispense medical equipment such as walking aids and tens machines.