Self- Service is big business in the UK and with technology and competition hotting up each year, 2017 and beyond promises even more innovation. From improvements in Healthcare to advancements in kiosks for banking, we look at some of the ways in which kiosks will enhance our lives this year and beyond.
Self Service for More Industries
Kiosks are appearing in progressively more industries and companies have largely been successful in developing the right balance of self-service machines and human support staff.
In Hardware terms, more and more sophisticated peripherals are being developed all the time as demand increases for kiosks to be able to handle more complex tasks and functions. Advancements in software have also meant the technology is now far more appealing to a diverse range of sectors.
For example, owing to the vast improvements in identification technology, retailers are utilizing kiosks and retina software to develop a system whereby customers can long into their retail accounts if they forget their password details.
Further hardware innovations have also meant that costs have been falling and now a lot more businesses and industries are seeking to invest at an affordable rate.
More Products
Kiosks currently handle rather simple processes and dispensing items is probably the simplest of them all. Combining kiosks with vending machines was a great idea but kiosks now offer even more impressive product dispensing solutions.
In America, kiosks have been introduced that will allow customers to actually order a pizza and accept it directly from the machine. Using a touchscreen to input the order, the kiosk prepares the product and cooks it while the customer waits – expect to see these make their way to the UK this year; especially at festivals and similar events!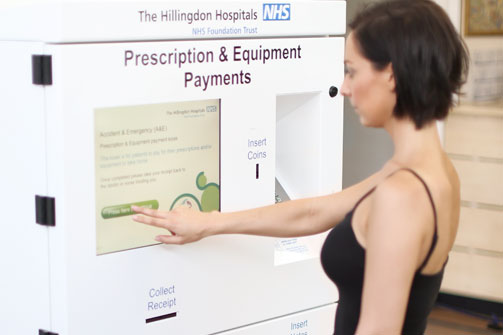 Healthcare Kiosks
It's no secret that the NHS is facing numerous challenges but solutions that enable the Health Service to collect missed revenue and free-up-staff are being developed. Cammax have developed the prescription payment kiosk that has enabled Hospitals across the UK to offer out-of-hours payment services and a number of medication-based dispensing kiosks have also been deployed- again to reduce the administrative burden on NHS staff.
Improvements to Banking
Whilst we are already utilizing unmanned cash machines, kiosks are slowing being introduced that can handle very advanced banking tasks such as large deposits and instant acceptance cheque deposits. These kiosks are set to revolutionize the banking industry and staff will be offered more time, on the whole, to carry out tasks that require human interaction such as mortgage approval.
Total account management via a kiosk will also soon be available to customers in the UK; simply inserting your payment card and inputting a PIN number will grant access to various services that could only be handled by workers in the past (i.e. updating addresses, requesting paperless statements etc).