With councils across the UK facing a plethora of challenges, more and more local authorities are turning to digital solutions in an attempt to reduce costs, improve efficiency and enhance the over customer experience.
At Cammax we recognise the problems many council's face which is why we have developed the state-of-the-art Council payment kiosk that was made to help lower transaction costs and speed up queues. Our council payment kiosks provide customers with the ability to pay for a wide range of services such as Council Tax, Fines, Licenses and School meals- without having to queue to speak to staff.
In recent years, we've worked some of the biggest council's in the UK; here are 3 examples of how councils have utilised Cammax council payment kiosk to help improve the services offered to the community.
Aberdeen Council
Aberdeen rolled out Cammax council payment kiosks in a move to offer self-service facilities for customers looking to make a range of payments. They wanted to not only provide a simple solution for customers who are used to a face-to-face service but also wanted to provide a platform to increase collections for services like licenses and school meals. The council also wanted to lower transaction costs and improve efficiency.
Before rolling out the kiosks, the Council conducted a study with both staff and customers to review policies and procedures that required improvement. Kiosks and digital solutions were then assessed to see how they could address the issues raised.
Following consultation, it was decided that the improvement process would involve the initial roll-out of two Cammax payment kiosks.
Following the installation of the new kiosks, Aberdeen City Council took over £2,5000,000 in the first ten months and saw PayPoint transactions reduce by 5%, saving nearly £5,000 a year. Staff input was reduced by 1.32 FTE, exceeding the anticipated benefit by some 56%. Overall queue times were reduced by one third and customer complaints were reduced 100%.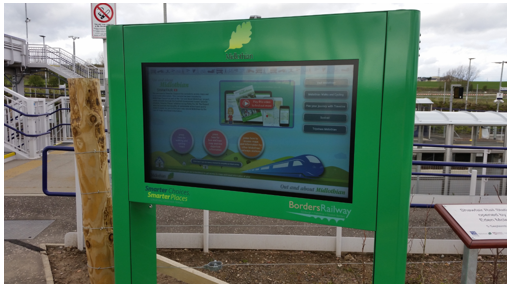 Midlothian Council
Elsewhere in Scotland, Midlothian Council rolled out Cammax kiosks following the development of The Borders Rail initiative that saw 7 new railway stations built in total (4 in the Midlothian area). With the new stations built, the Council wanted to provide mapping information, highlighting local walking and cycling links, in a bid to encourage passengers to travel both actively and sustainably from home to the stations.
Cammax were appointed to help deliver such a service, and our interactive outdoor kiosks were deployed. The kiosks provided maps titled "Out & About Midlothian" and "Out & About Scottish Borders" and included the walking/cycling links to and from the stations, public transport links, local walks and cycle routes.
Coventry City Council
Three years ago, Coventry City Council started the process of closing their cash offices, replacing face-to-face services with service kiosks. These kiosks were designed to accept payments via card, cash or cheque as well as being able to dispense change and receipts where necessary.
Like all Cammax payment kiosks, our high- quality units were equipped with high capacity cash handling devices, capable of processing over £200,000 worth of transactions per month.
In total, the Council deployed three self- service kiosks, all responsible for processing payments for the likes of Planning Applications, Council Tax, Building Control, Invoices, Housing Benefit Overpayments, Litter & Waste, PCNs, Business rates, Blue Badge Payments and much more. In the first year and a half following deployment, the kiosks processed nearly 85,000 transactions worth nearly £10,000,000.