Cammax have worked closely with a wide range of different customers,  partners and Passenger Transport Executives in order to develop our range of smart ticketing kiosks to become one of the most cost effective, efficient kiosk available on the market today. This experience and knowledge enables us to create bespoke ticket kiosks specific to the needs of the local public and environment.
Smart Ticketing
Smart Ticketing schemes have been adopted by many local Councils and Transport schemes as a way of removing cash from travel. Microchips electronically stored on Smart Cards allows members of the public to load tickets and cash values onto cards which provide the several benefits to both the public, operators and transport organisations
Benefits
Removes cash from buses and ticket machines  which is expensive to manage
Registered cards can allow public to cancel or re-claim lost tickets
Ability to advance purchase at convenient locations, e.g online, kiosks, ticket offices
Speeds up boarding times and reduced queues
How does Cammax help?
Implementing Smart Card schemes can be a daunting prospect. At Cammax we work closely with the customers to enhance their existing Smart Card schemes through the addition of Smart Ticketing TVMs and supporting products.  Cammax TVM's provide a range of functionality from dispensing smart cards through to printing of receipts.
Installing Smart TVMs requires initial capital investment however due to their ability to work 24 hours a day and require very little staff intervention they are significantly cheaper to operate and as the graph below shows the adoption rate quickly increases after deployment.

Increasing Adoption Rates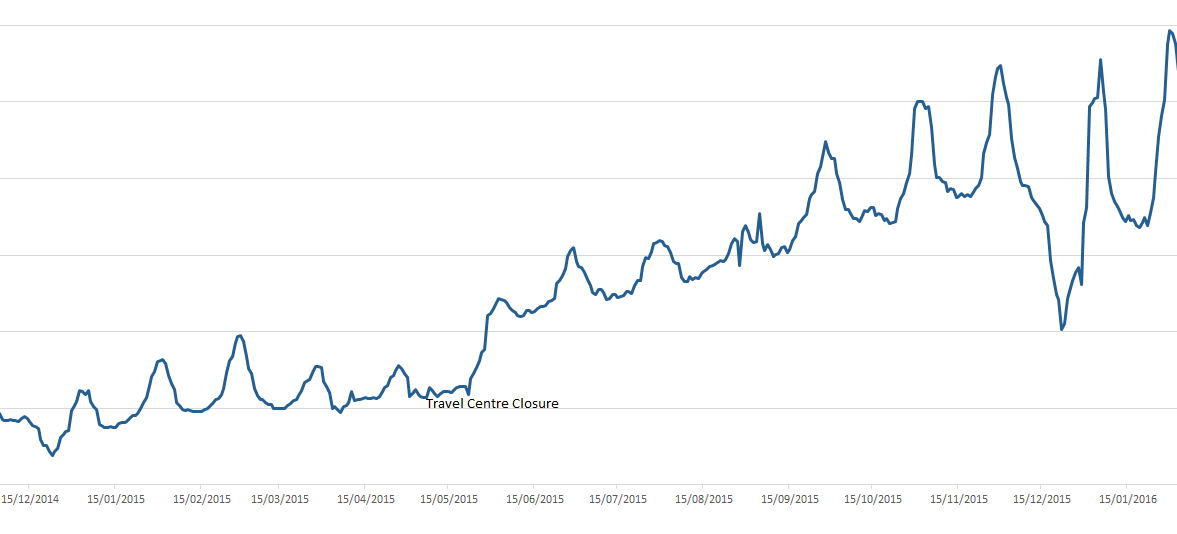 The above graph shows in increase in sales over time from one of our Passenger Transport Executive customers. Because of the success of the kiosks and the PTE's confidence in kiosks, the travel centres were shut around June 2015 which caused a large increase in the number of tickets sold at the kiosks. The tickets sold above are 7 day and 28 day tickets. Generally, we can see peaks during the beginning of the month because of the nature of 'monthly' tickets – and a trough at Christmas.
Cammax Smart Ticketing Application
Through our experience of existing projects and constant re-development and updating of our Ticketing application Cammax have one of the most intelligent and innovative Smart Ticketing Applications in the UK. The Cammax Smart Ticketing application has been developed in such a way that the system will work seamlessly with other ITSO services employed by our customers now and in the future. Cammax have also broadened their Smart Ticketing portfolio to offer a wider solution than just kiosk applications and now includes additional SMART products and services such as Pick up Posts, Smart Ticketing Engines, Smart Retail Points and Mobile Phone Applications.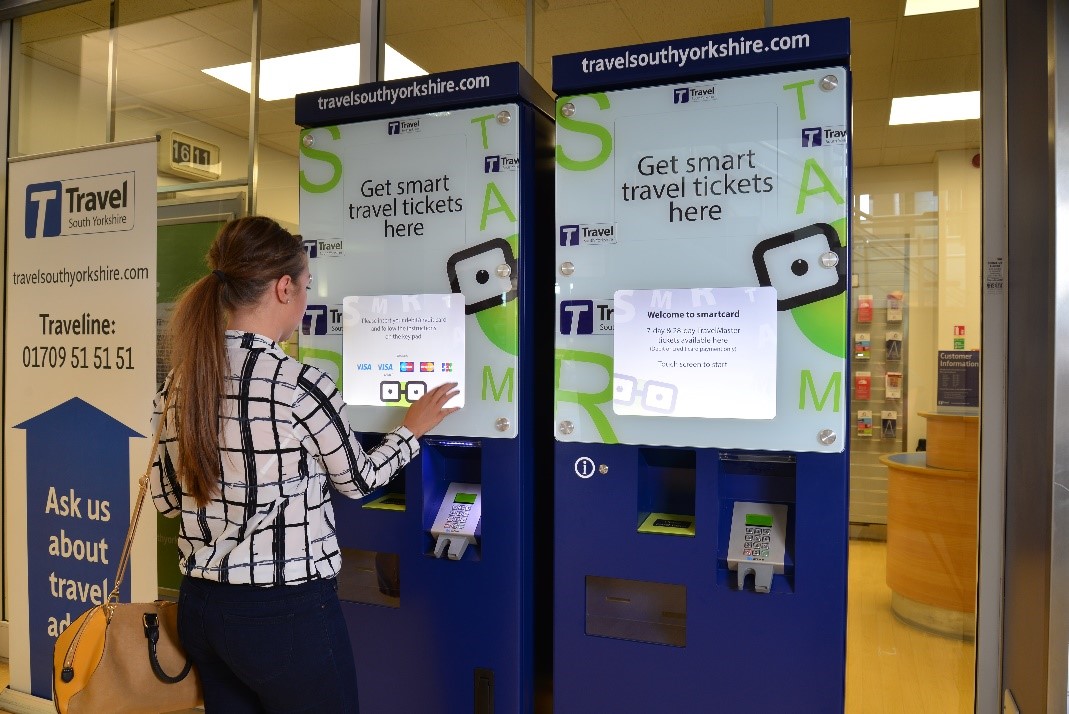 Features & Benefits of the Smart Ticketing Application
Completely configurable dynamic menu flow
Restrict products offered on individual/groups of TVMs
Restrict products offered based on media type
Dynamic configuration of look and ordering of the menu and product selection
Automatic entitlement trip over
Restrict products based on extensive complicated business rules
Clear, easy and intuitive screens
Ticket information automatically updated
Remote viewing of real-time statuses and stock levels
What our customers say
Cammax has worked to integrate Yorcard's Part 11 software, Kafeneon, into its own software solutions for kiosks and desktop ITSO ticketing systems. These solutions have been rolled out in South Yorkshire and West Yorkshire to sell multi-operator tickets, where they have been very well received by the combined authorities and customers alike and have proved a great success. The kiosks are reducing the cost of sale for the Multi-operator Ticketing Organisations, TravelMaster and MCard, with a positive impact on customer satisfaction. Yorcard has been very happy with our partnership with Cammax, who have always conducted themselves thoroughly professionally.
– Mike Duncombe, General Manger, Yorcard, April 2016
Cammax Smart Product Range
Check out our range of Smart Ticketing products by clicking on the links beneath the slides below:
Integration into wider ITSO scheme
Cammax have worked with a range of ITSO schemes and ensure that our TVM solutions are compatible and help support any existing schemes which a customer may already have in place. Cammax work with a range of ITSO service providers including Ecebs and Yorcard, a range of CRM systems and other retail outlets such as Payzone.
Cammax Existing Smart Ticketing projects
Cick on the images to find out more about our Smart Ticketing Projects:
Additional Benefits
Reduced staff costs
Managed queues in peak times
Increase promotion awareness
Around the clock service