Cammax offers many innovative types of payment machines to the parking market. The parking industry needs to offer car drivers many alternative ways to pay for their parking, which is dictated by the marketplace and also by the physical and infrastructure requirements within different car parks.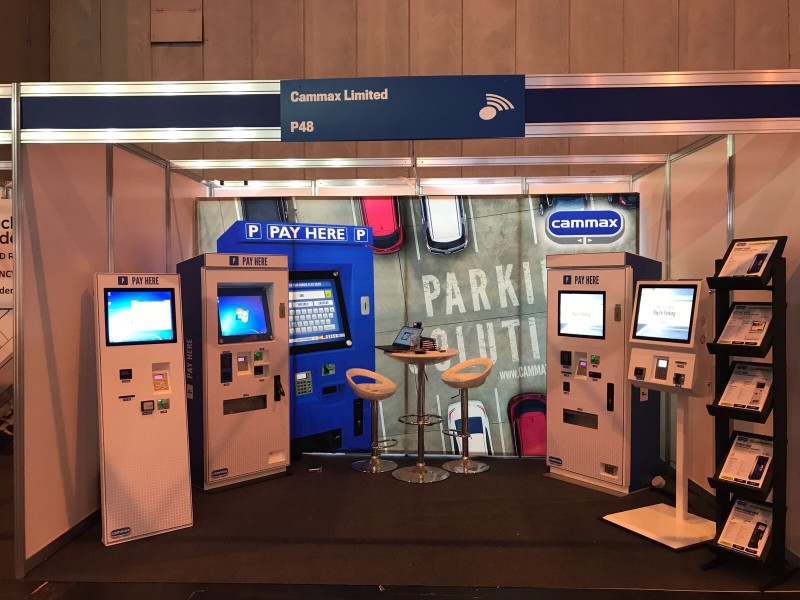 Cammax offer a range of six different parking payment kiosks:
Wall Mounted GP3 Payment Kiosk
The wall mount GP3 is a low-cost option for Car Parks where space is at a premium and aesthetics are especially important. To keep the kiosk footprint at a minimum, cash is not accepted and change is not given, the kiosks can take payment via Chip & PIN or contactless card and print a receipt. For more information, you can view the GP3 Kiosk Specification document here.
Free standing blade payment kiosk
The Blade is a slimline floor standing kiosk which accepts payment via Chip & PIN Card or contactless card. The kiosk can also read barcodes which is useful extra functionality. The kiosk has a large area which can be used for branding and marketing purposes. To view the Blade Kiosk specifications please click here.
Indoor full service parking payment kiosk
The indoor full service kiosk accepts all payment types and can give change. In addition, the machine offers coin recycling which means that if customers pay with coins then the kiosk can go for long periods without the need for operators to top up the coin change float.
Outdoor full service parking payment kiosk
The Outdoor payment kiosk has all the functionality of the indoor payment kiosk with added durability for outdoor use. The kiosk cabinet is manufactured from a thick grade of stainless steel to make it more rugged and heavy duty door seals are utilised to keep moisture out of the kiosk. The projected capacitive touchscreen is protected by 6mm thick safety glass which helps prevent misuse and abuse. For more information please read our Outdoor Payment Kiosk Specification PDF here.
Cirrus outdoor parking payment kiosk
The cirrus outdoor is an outdoor kiosk which can be wall mounted. Features of the kiosk include a projected capacitive touch touchscreen protected by 6mm safety glass. Payments can be made by Chip & PIN or contactless card, and the kiosk has space for various peripherals such as a bar code scanner. To find out more, take a look at the Cirrus Outdoor Kiosk Specification pdf here.
Cirrus outdoor parking payment kiosk with stand 
The Cirrus outdoor is a slim free standing kiosk which is weatherproof for outdoor use. It has 6mm safety glass protecting the touchscreen and as well as accepting Chip & PIN and contactless, the kiosk can also accept coins as payment for parking. There is plenty of space within the kiosk for printers to issue receipts.
Cammax is a member of the British Parking Association (BPA)
 

Additional Benefits
Customised Powder Coat Finish
Vinyl Graphics Front, Side and Rear
Thermostat and Heater/ Cooling Fans
Barcode/ QR Reader